What is the Smart Homeowners Insurance Form integration?
Floify has designed a seamless homeowners insurance experience that will allow borrowers to view preliminary insurance rates and schedule calls with licensed insurance agents all within the borrower portal in Floify.
We've partnered with Elite Insurance Group and Porch Home Assistant who specialize in helping consumers find the right policy for their individual needs. EIG is able to give customers quotes from high-quality carriers like Progressive, Safeco, Nationwide, Travelers, and more.
The insurance carriers that will available with the integration are as follows:
Safeco Insurance
Hippo
State Auto Insurance Companies
Stillwater Insurance Group
Travelers
Bristol West Insurance Group
Universal Property and Casualty Insurance Company
Foremost Insurance Group
First American Property and Casualty Insurance Company
Nationwide
Progressive
Neptune
Wright Flood
Homeowners of America
CSE Insurance Group
Mercury Insurance
Wellington
Integration type: Productivity
What will the integration support?
Borrowers receive doc requests throughout their home-buying experience. While some requests take minutes to fulfill (like uploading a picture of their drivers license), others can take much longer — and in some situations, put the borrower under more stress. Today, many borrowers do not have homeowners insurance prior to receiving the doc request to enter HOI policy details.
With this feature, when a borrower sees the homeowners insurance request, they will have two options: "Enter policy details" or "See insurance options". The new button, "See insurance options", allows borrowers to switch into an Insurance Marketplace within the portal they know and trust.
Borrowers will have the option to view preliminary rates as well as call or schedule a call with a licensed insurance agent to get a definitive rate.
How to Set Up and Use
The Smart Homeowners Insurance Forms Integration will be set up for your company by default. There is nothing further you need to do to ensure this is available for your borrowers.
Please note that if you need further help with this integration, you will need to contact support directly at support@floify.com and provide some additional details.
Lender Portal
You will have a template document in the settings labeled Smart Homeowners Insurance Form that will be automatically requested for your borrowers.
The document can be edited by navigating to Settings > Template Docs > Template Documents by selecting the pencil/paper icon towards the right of the document name and description: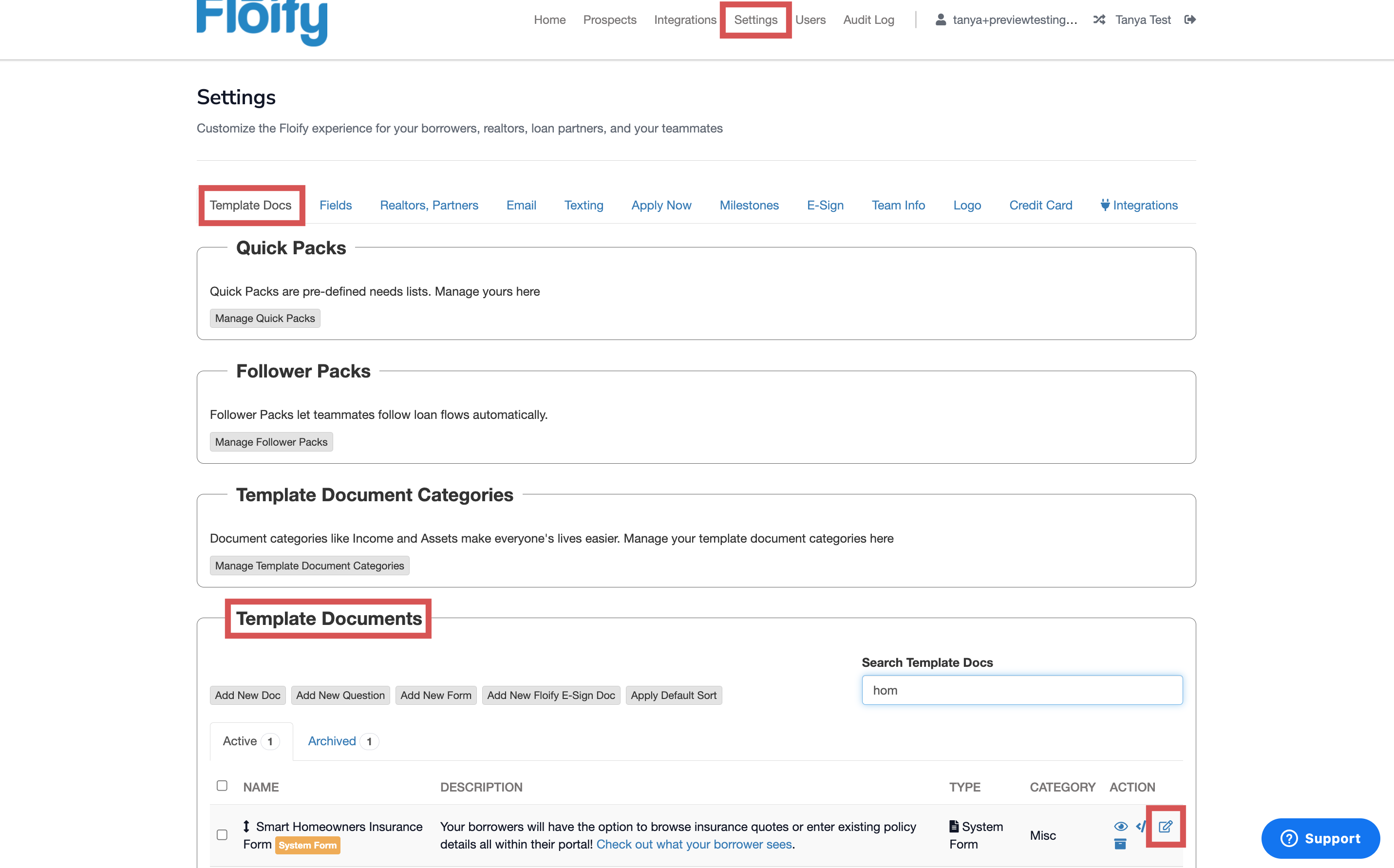 You will have access to edit the document name, document description, and category. Make sure you select Save to confirm any changes: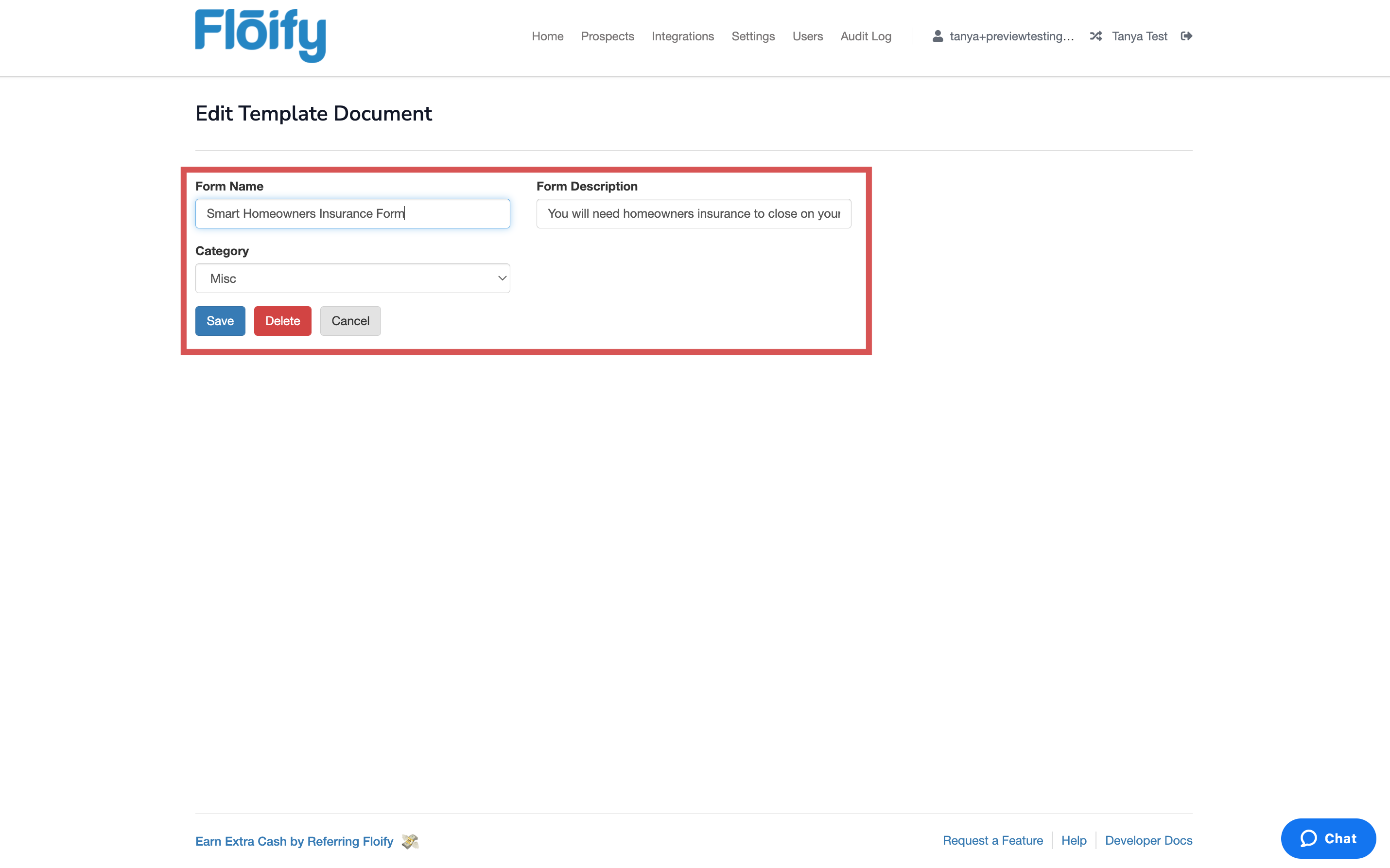 The Smart Homeowners Insurance Form will be automatically requested for the borrower after a few different triggered events, depending on where in the application process your borrower is.
Those triggers are:
When an address is detected on the 1003 application
When an address is added via Start New Loan Flow
25 days after the loan flow starts, if no address has been entered onto the loan flow
Please note that this cannot be removed when starting a new loan flow. You will see a message indicating this if hovering over the checkbox towards the left:
Borrower Portal
Upon logging in for the first time or starting the application process, the borrower will be required to opt into TCPA, where they will consent to receiving assistance on key services needed for their loan: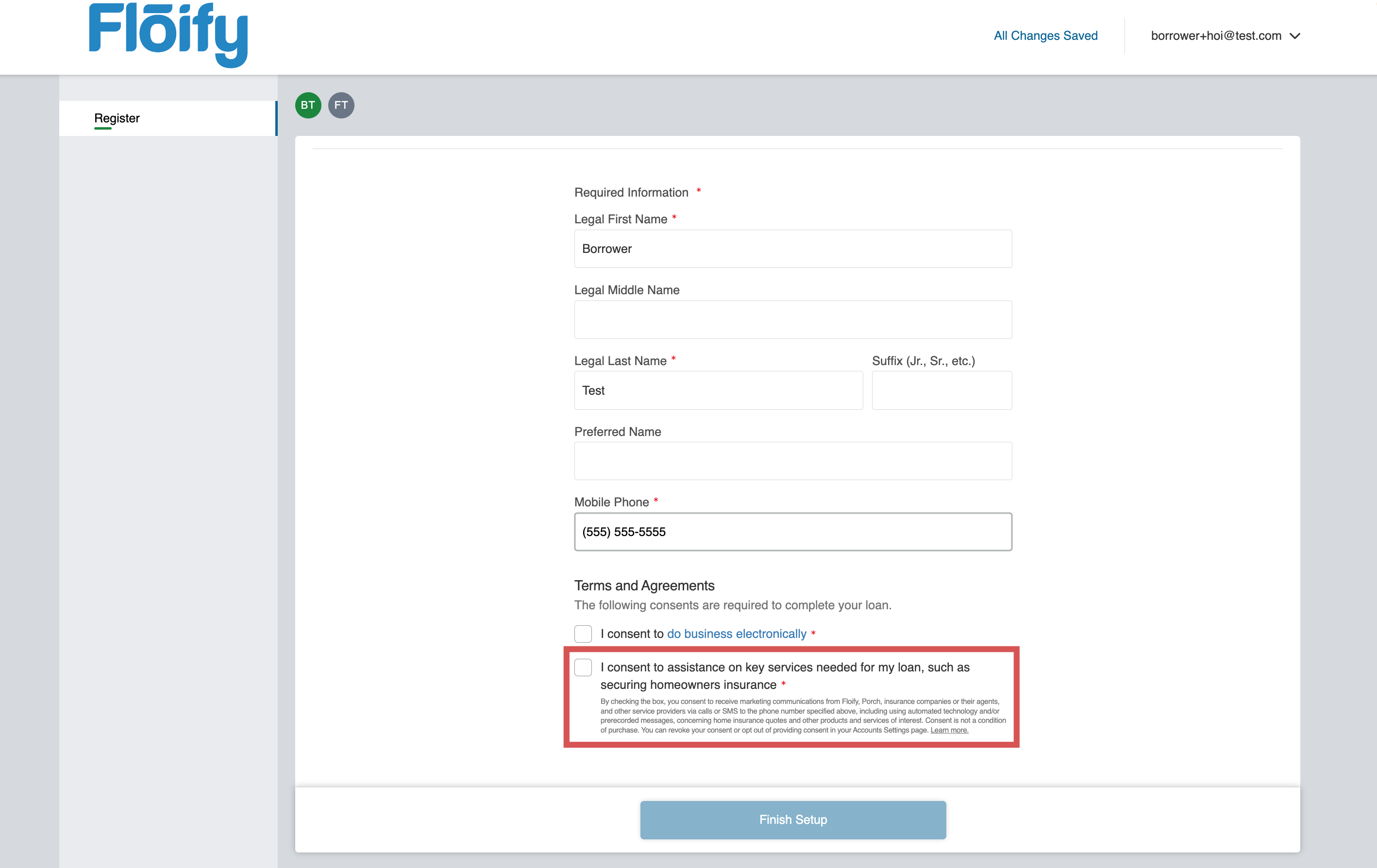 Once the borrower meets one of the requirements to trigger the form, they will receive a notice in their account congratulating them on finding a property, and the form will populate into their account: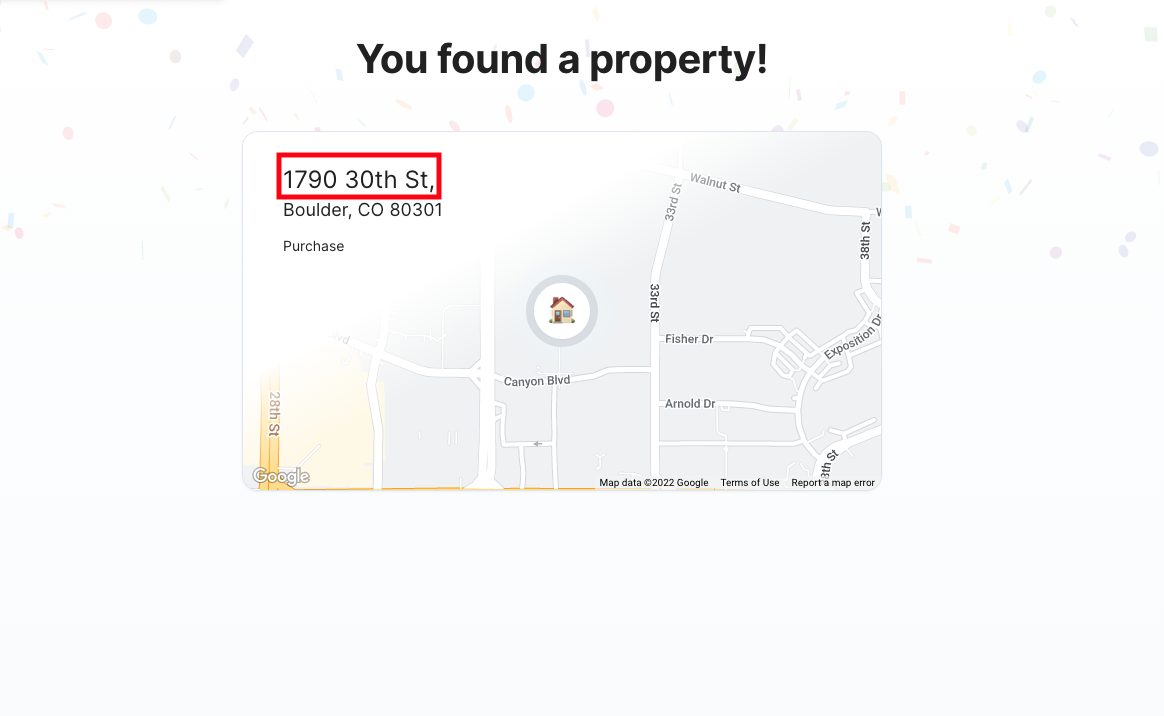 The borrower will see the Homeowners Insurance Form request in their portal, and they will have two options on the right hand side to See insurance options or Upload policy: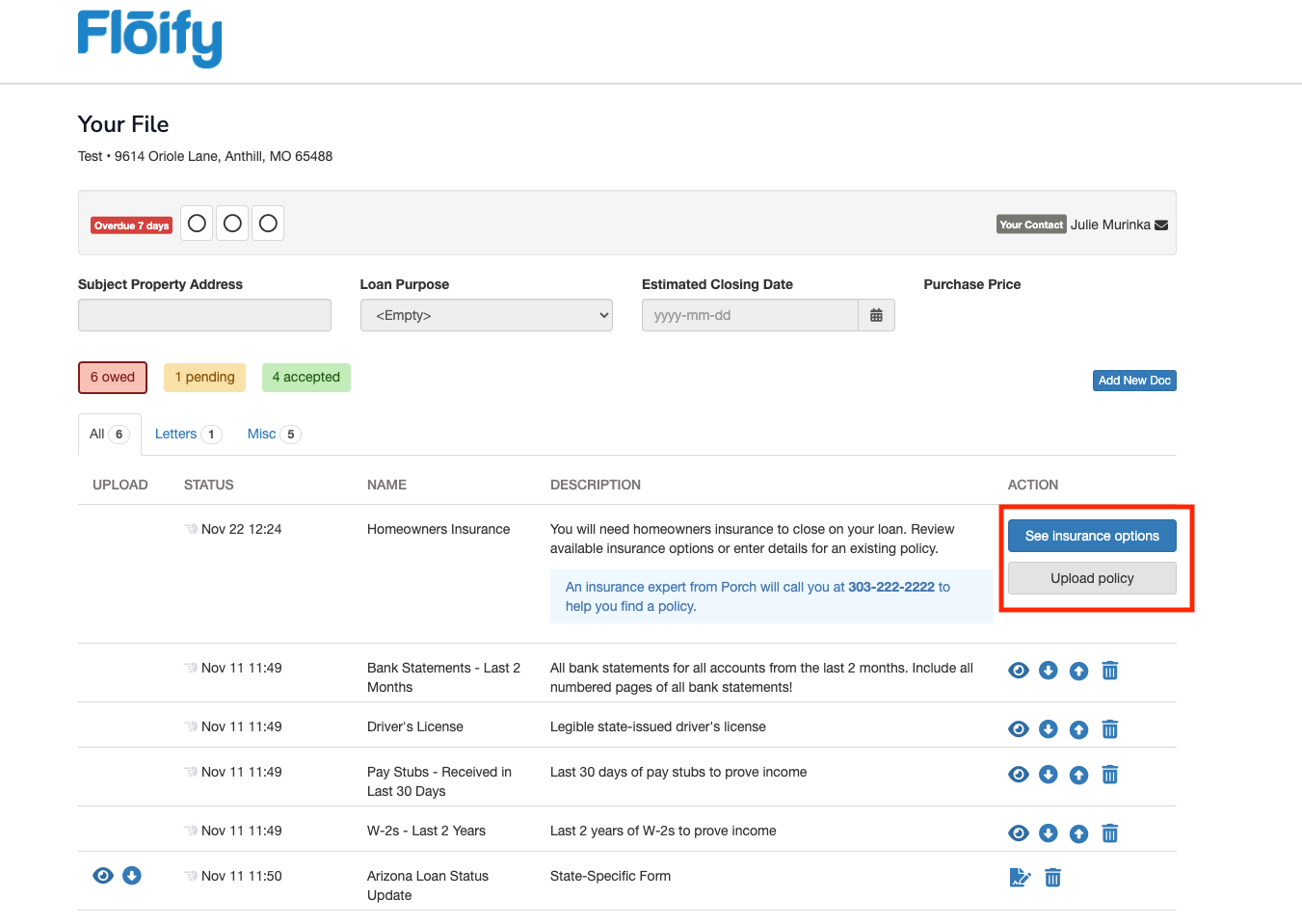 The Upload policy option will present the borrower with an upload option where they can drag and drop their policy, or browse their files to attach: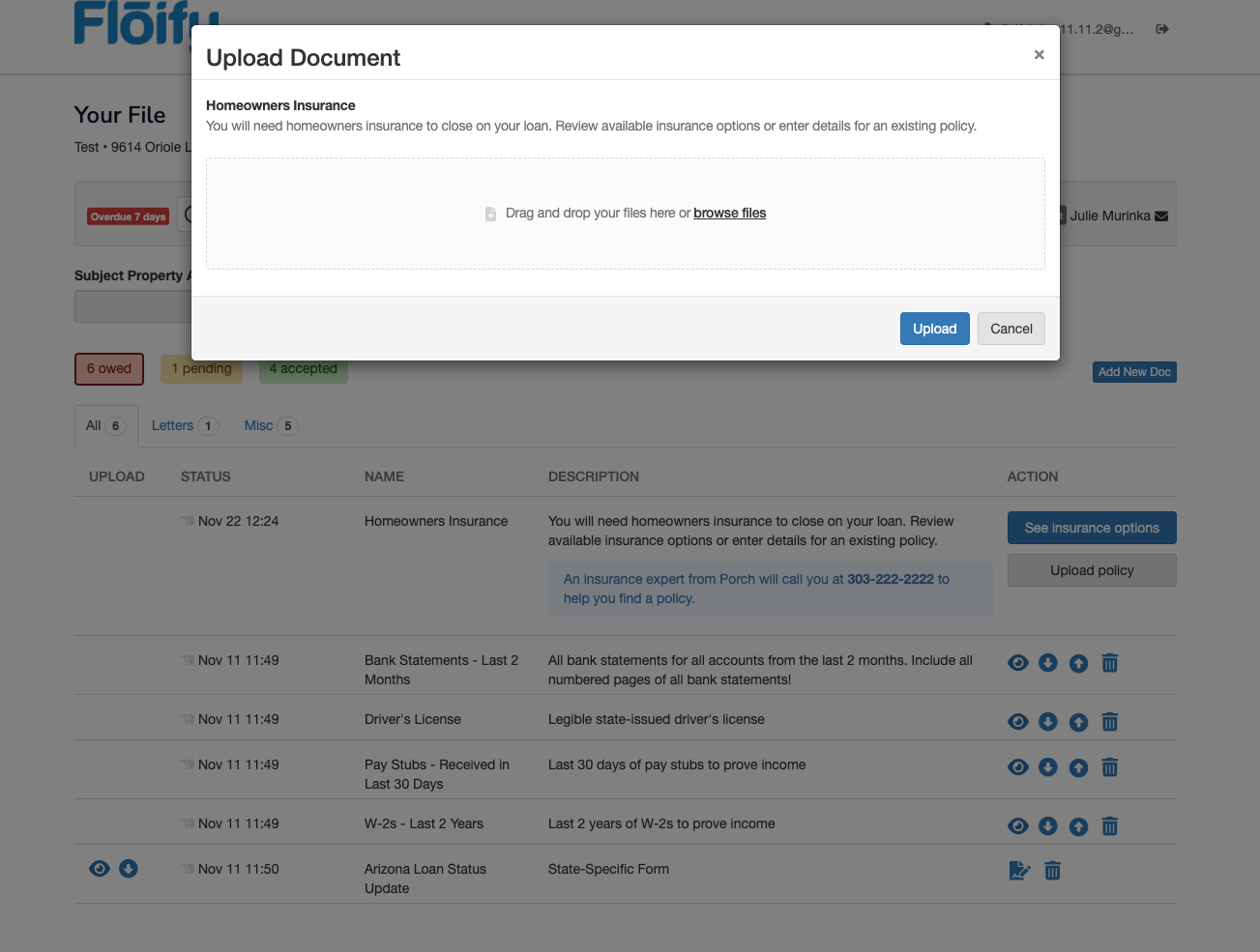 If a borrower selects See insurance options, they will instead be taken to generate quotes. They will be prompted to enter a loan property address and phone number if these are not already available for the loan flow: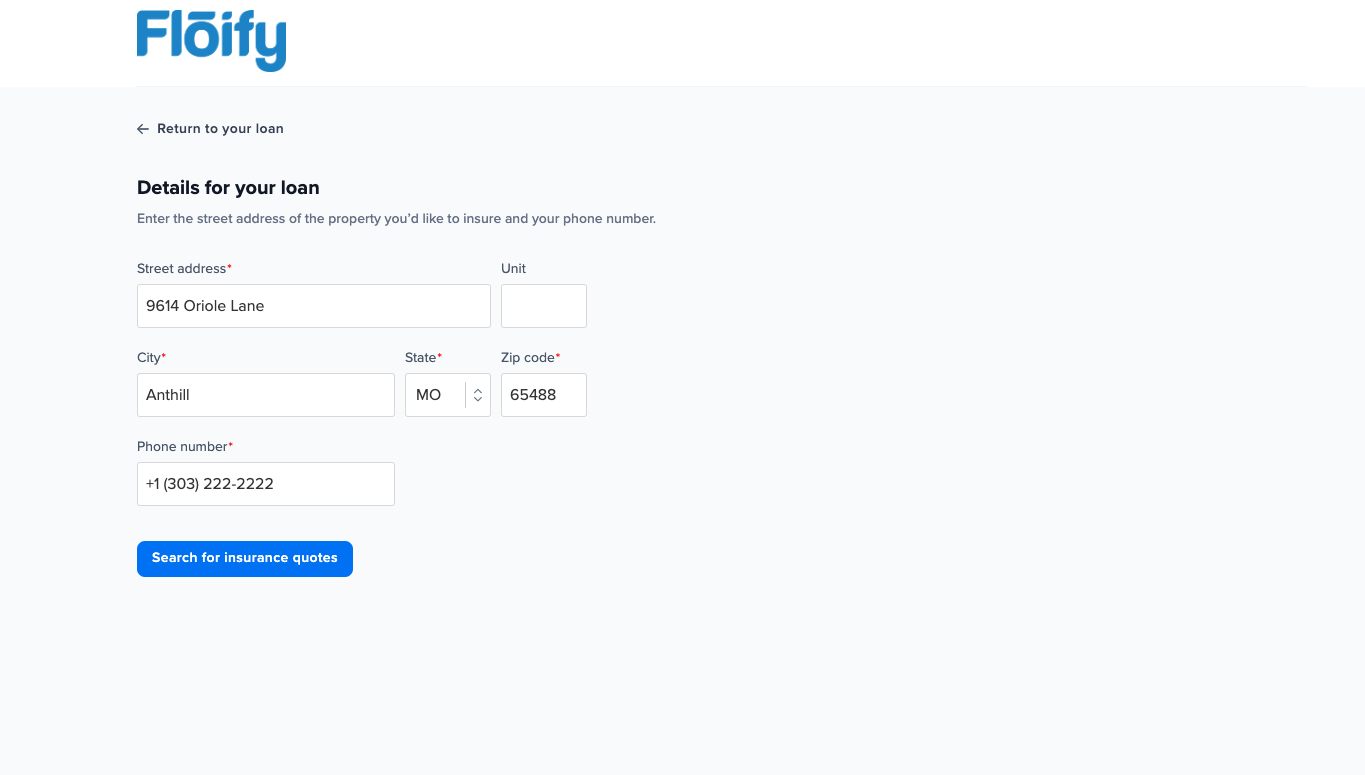 These may take up to a minute to generate and the borrower will be presented with a loading screen: In some very rare cases, we might not be able to offer rates to the specific borrower. Borrowers will in that case see a screen prompting them to return to their loan flow or reach out via phone: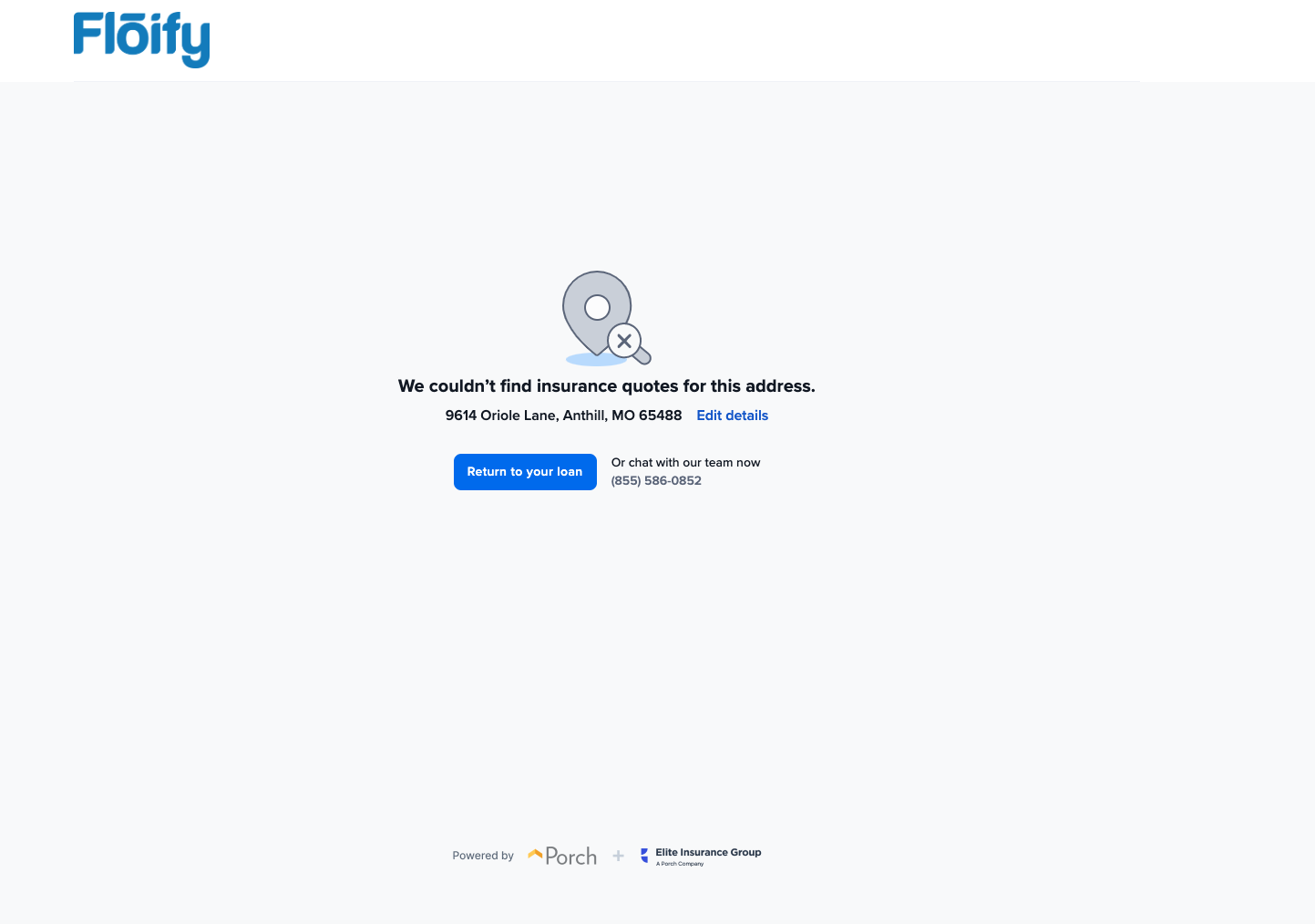 As soon as the preliminary rates are available, we will show the borrower their insurance marketplace with available rates listed: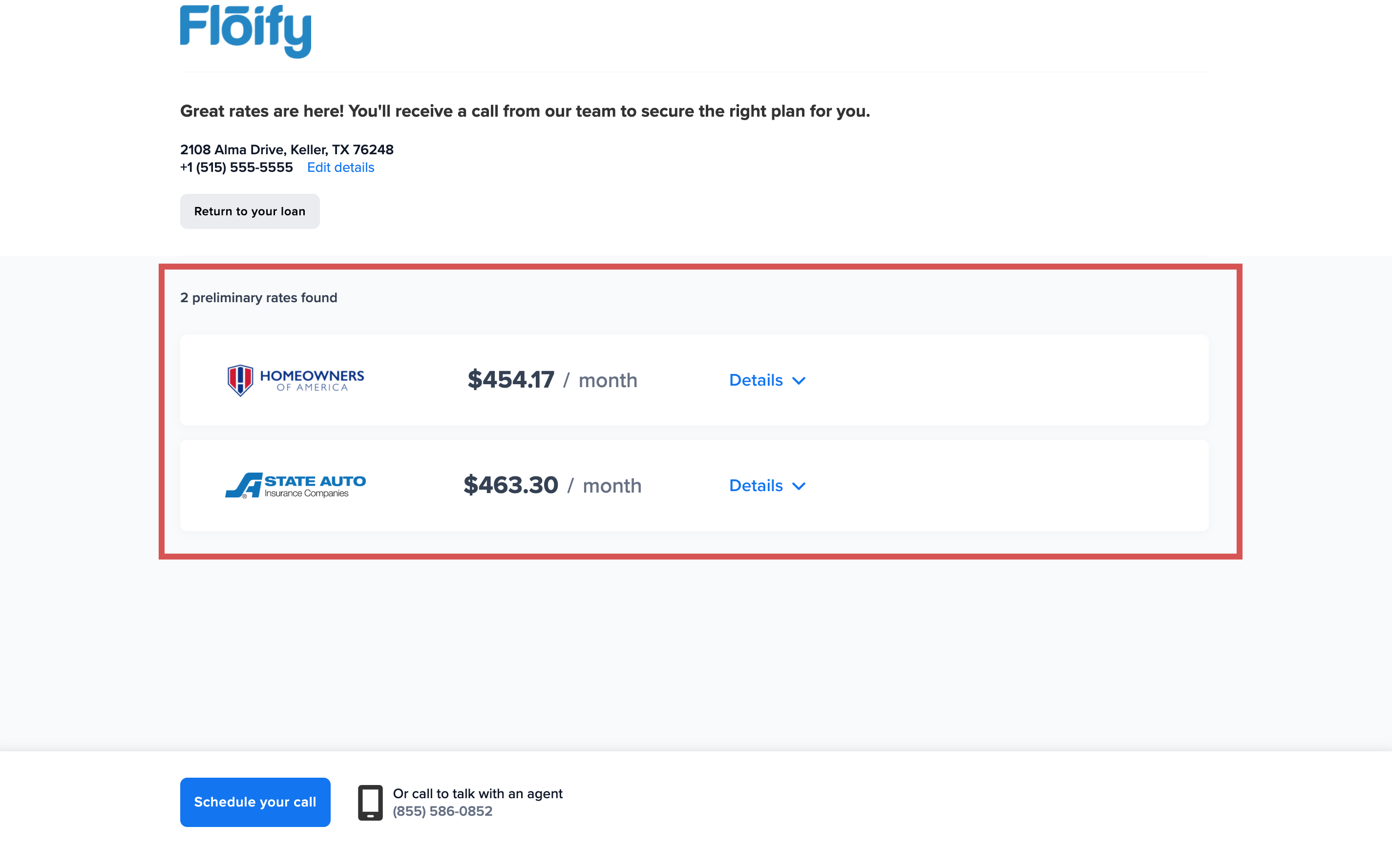 Borrowers can view preliminary details using the simple Details dropdown on each rate. They are able to get an idea for what will be covered, the cost breakdown, and why the particular insurance options might be right for them: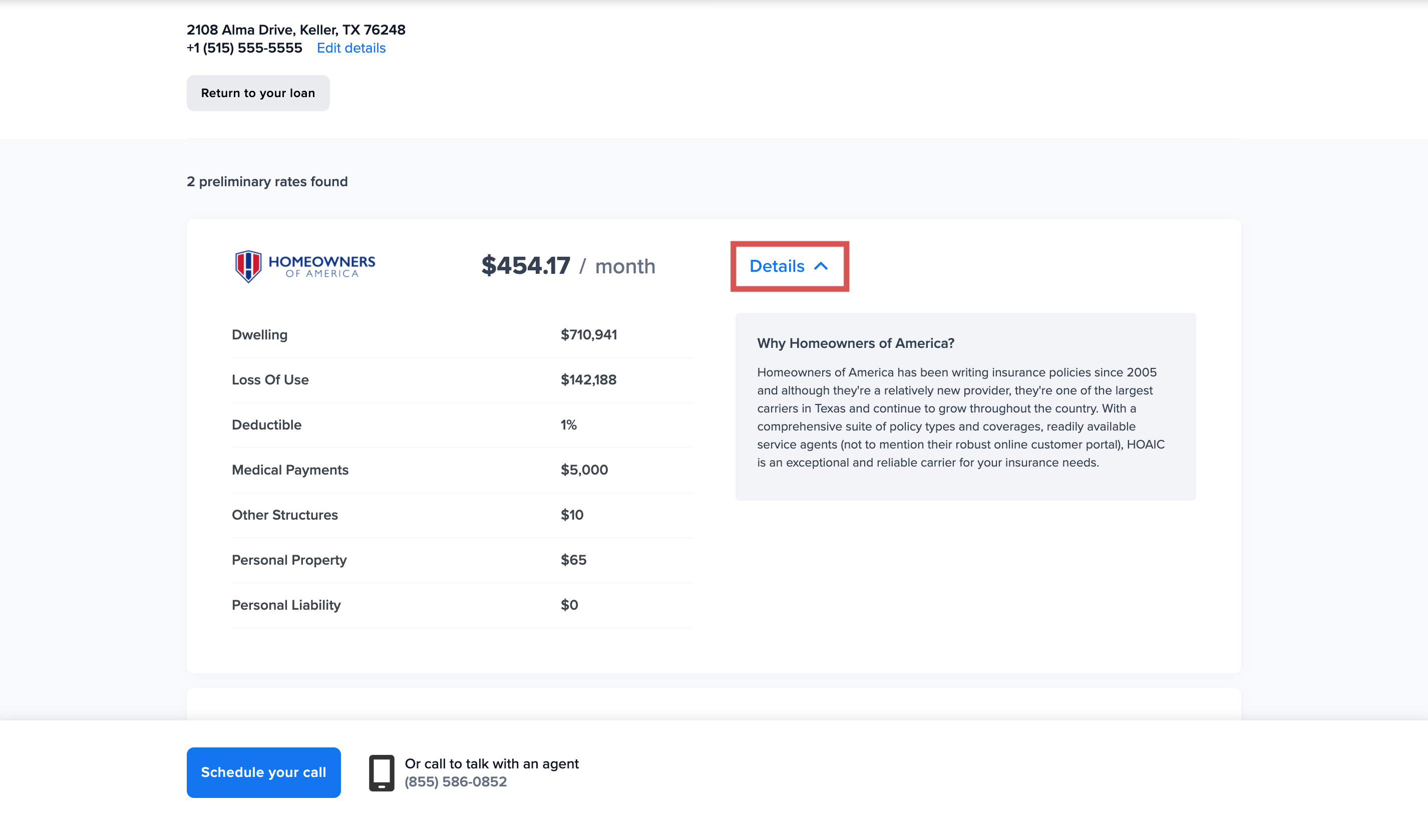 Borrowers can select Edit details to go back and enter in new information, including the address and phone number if necessary, to generate new quotes: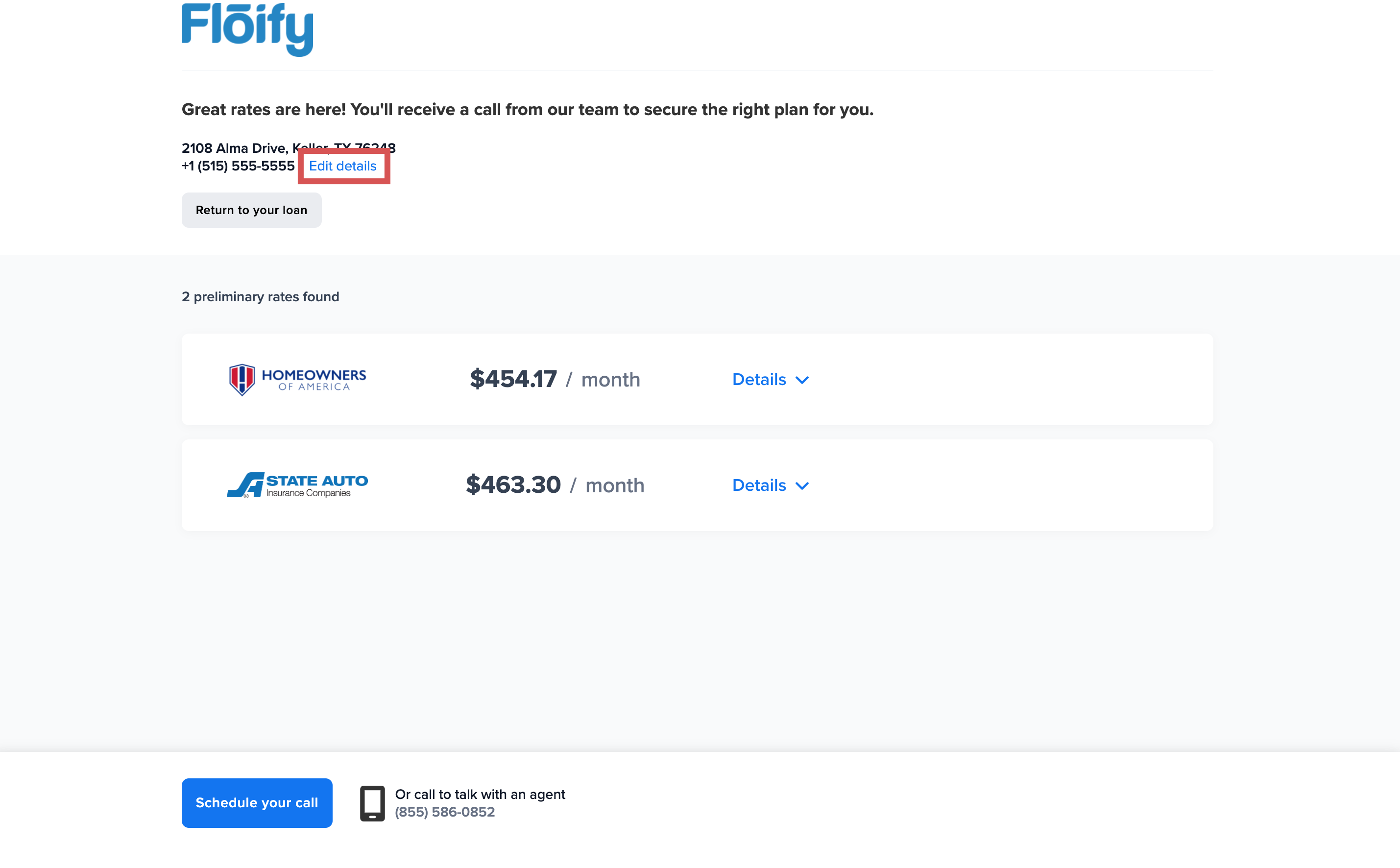 Borrowers are prompted to call or schedule a call with a licensed insurance agent to get a definitive rate: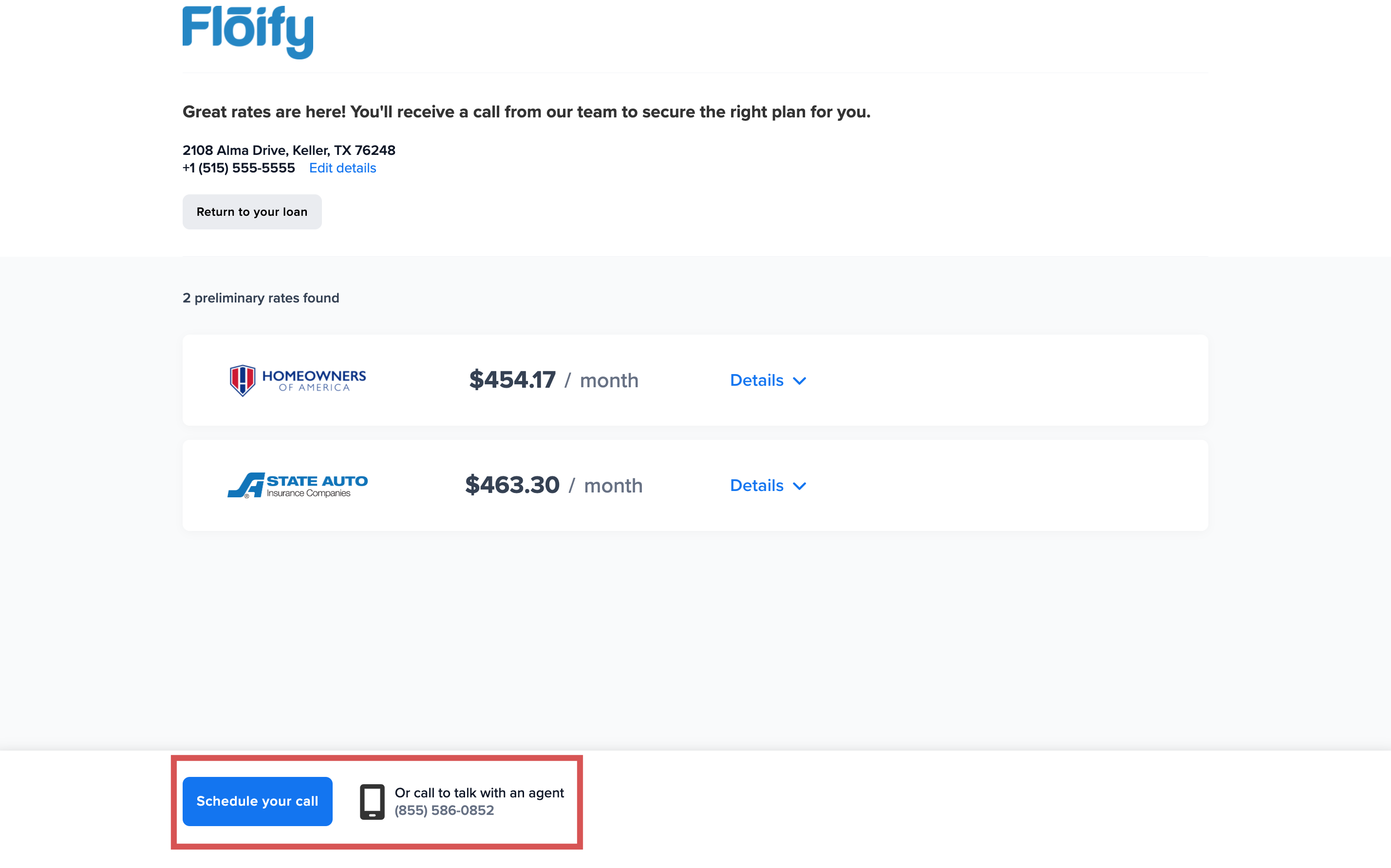 If they select Schedule a call, borrowers are taken to select a date to schedule a call: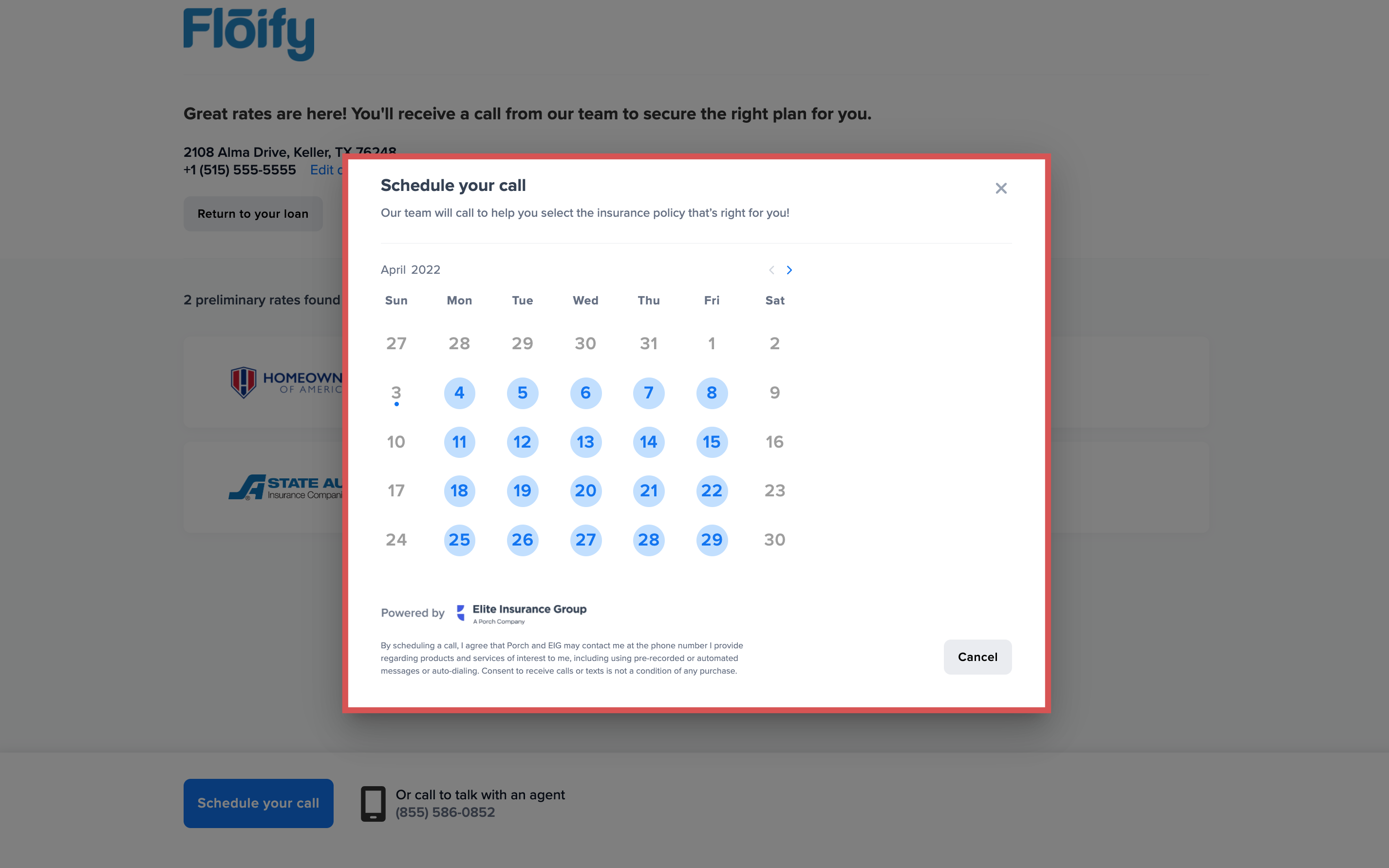 The current date is indicated with a dot underneath the day on the calendar. Unavailable or past days are greyed out while available days are indicated in blue.
Once a borrower selects a date, the available times display on the right. Times are listed as 3 hour blocks. Agents cannot plan their schedules to the minute as call lengths can greatly vary. Once borrowers select a 3 hour call block, they are prompted to confirm: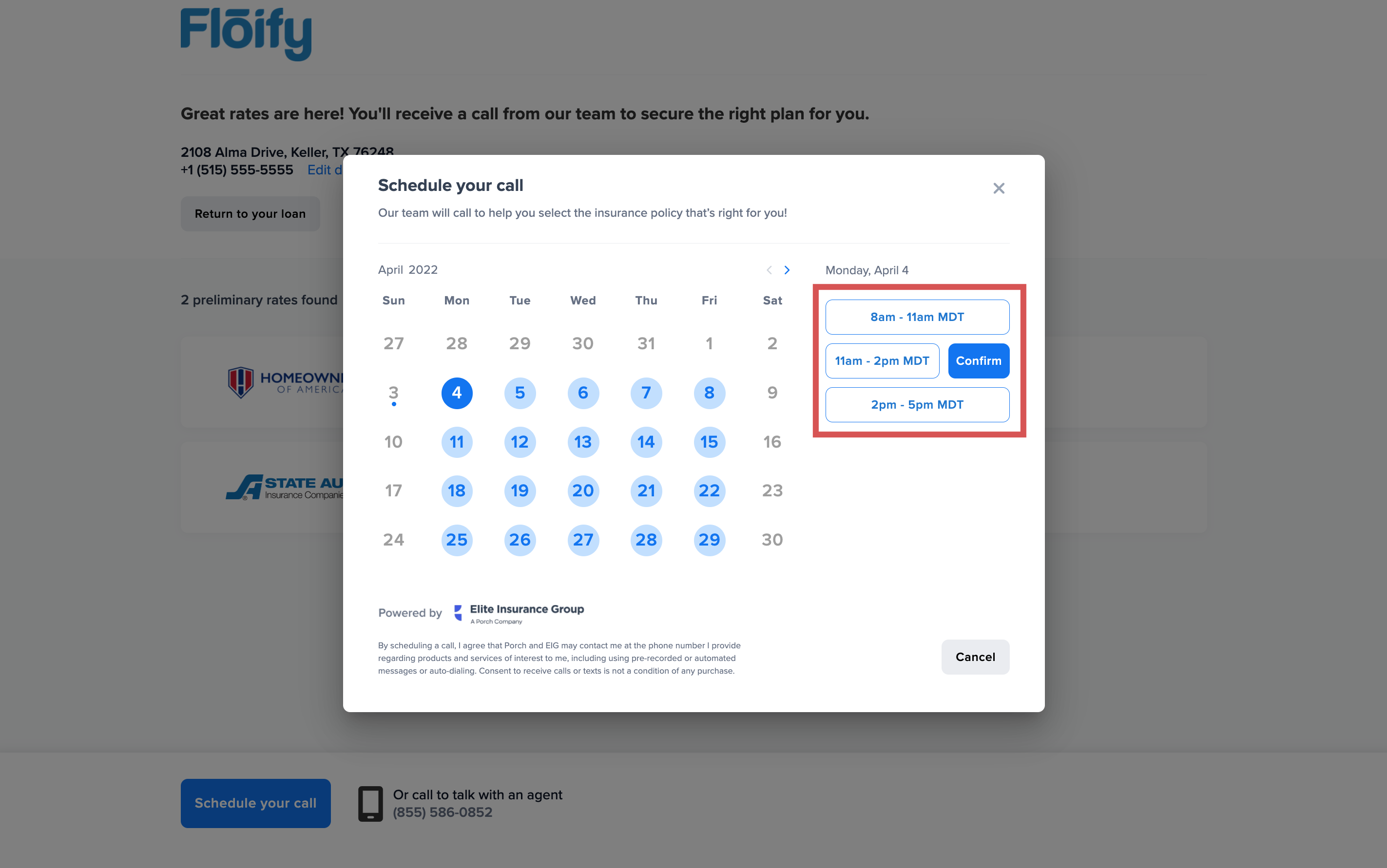 Once a call is scheduled, borrowers will see a confirmation, listing the date and time that their call was scheduled for. From this screen, they can return to their loan to continue signing or uploading any documents needed to complete their loan process: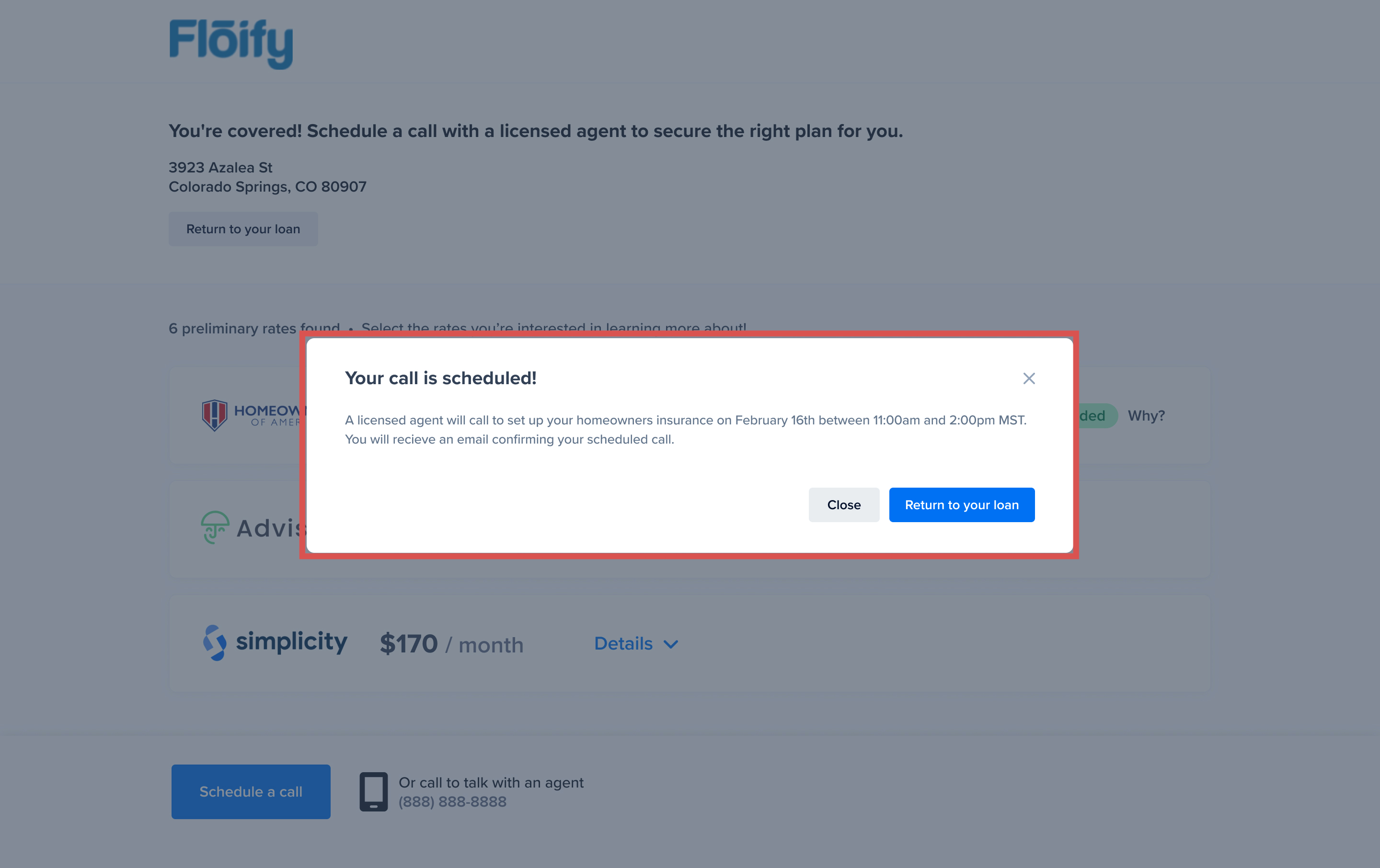 Borrowers will additionally receive an email confirming that their call is scheduled with the information regarding the time window and date: