Who is The Work Number by Equifax?
Equifax is a global information solutions company that uses trusted unique data, innovative analytics, technology and industry expertise to power organizations and individuals around the world by transforming knowledge into insights that help make more informed business and personal decisions. The company organizes, assimilates and analyzes data on more than 820 million consumers and more than 91 million businesses worldwide, and its database includes employee data contributed from more than 7,100 employers.
Headquartered in Atlanta, Ga., Equifax operates or has investments in 24 countries in North America, Central and South America, Europe and the Asia Pacific region. It is a member of Standard & Poor's (S&P) 500® Index, and its common stock is traded on the New York Stock Exchange (NYSE) under the symbol EFX. Equifax employs approximately 9,900 employees worldwide.
A verification of income is necessary in order to help understand an applicant's ability to pay. With consumer consent, an income verification from Equifax:
Leverages The Work Number® database of income and employment records from over 5,500 employers nationwide, including over 75% of the Fortune 500 and the majority of federal government civilian employers
Contains both basic employment information and detailed employer compensation data, including wages, bonuses, commissions, overtime and, if available, salary history and pay increase details
Includes payroll data that comes direct from employers and is updated every payroll cycle
Provides you with actionable data that is delivered within seconds
https://www.theworknumber.com/
Integration type: Verification of Employment and Income
What will the Floify—The Work Number by Equifax Integration support?
Once integrated with Floify, The Work Number by Equifax Verification of Employment and Income can be ordered manually on a one-off basis from the corresponding loan flow.
VOE/VOI reports are seamlessly delivered to the corresponding Floify loan flow's yellow bucket for your approval.
How to Get The Work Number Credentials for Floify Integration
To use The Work Number in Floify, The Work Number (TWN) will need to generate credentials that are specific to the Floify integration.

If you know who your assigned Equifax relationship manager is, you will need to reach out to them and request these credentials.

If you do not know who your relationship manager is, you can contact the Sales Support Group at Equifax to determine who your assigned RM is:

The assigned Equifax relationship manager will need to speak with you for verification before submitting a request for credentials that are specific to the Floify integration.
**Your existing credentials for TWN.com website will not work in Floify.
Once the credentials have been requested it can take 5 days for test credentials and up to 15 for production credentials.
How to Set Up and Use
From the team pipeline, choose the team name in the upper right-hand corner and select the option to navigate to the Company Dashboard:

Navigate to Company Settings and select the Integrations tab:

Scroll down to locate The Work Number. Select the plus sign towards the right to install: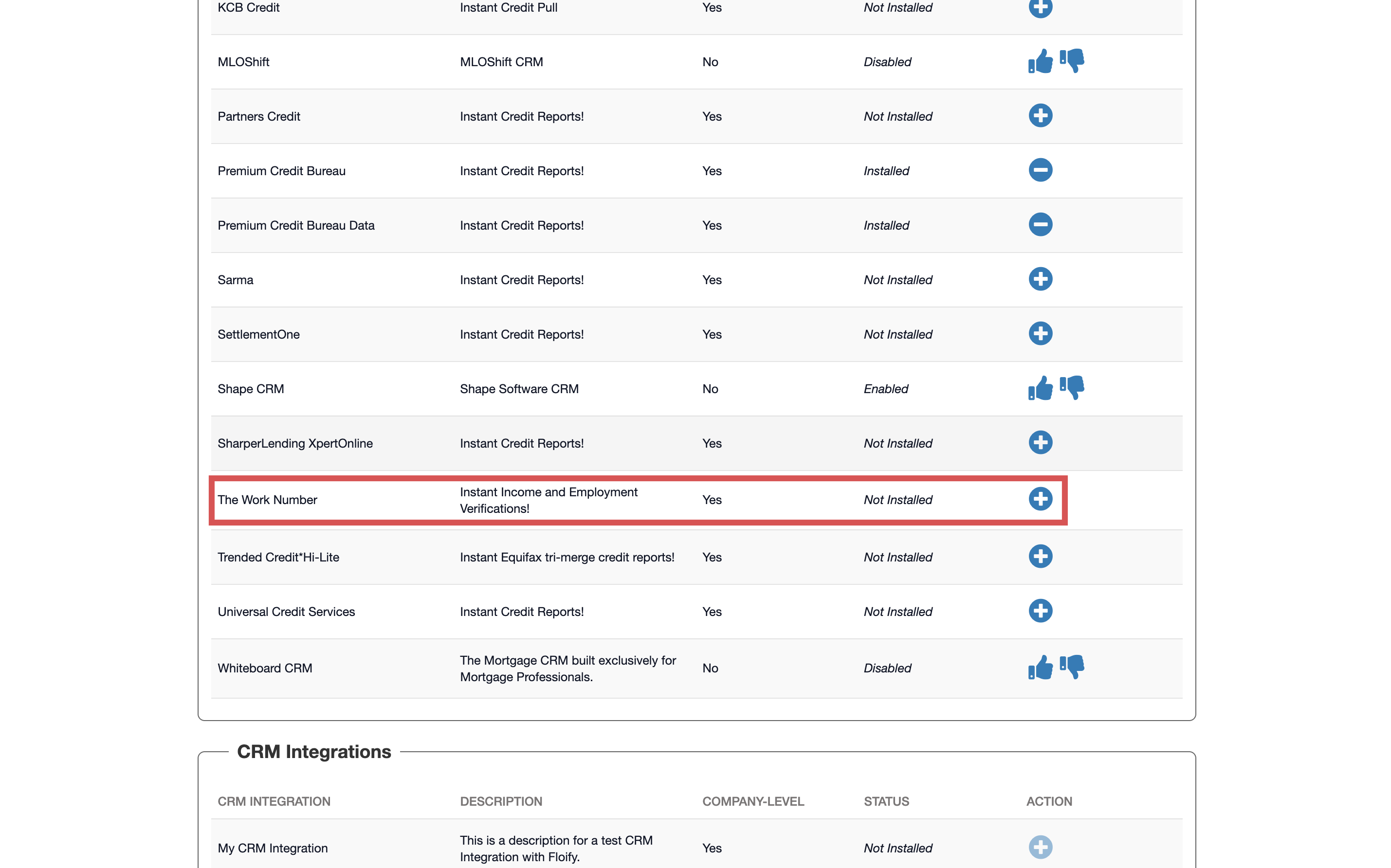 Enter your credentials and select Install Company Level Integration to complete the installation:
Note: The Work Number may require you to use Floify specific credentials. If you don't have these, you will want to reach out to Equifax directly to further assist. See headline above "How to get The Work Number Credentials for Floify Integration" for info on how to get Floify credentials.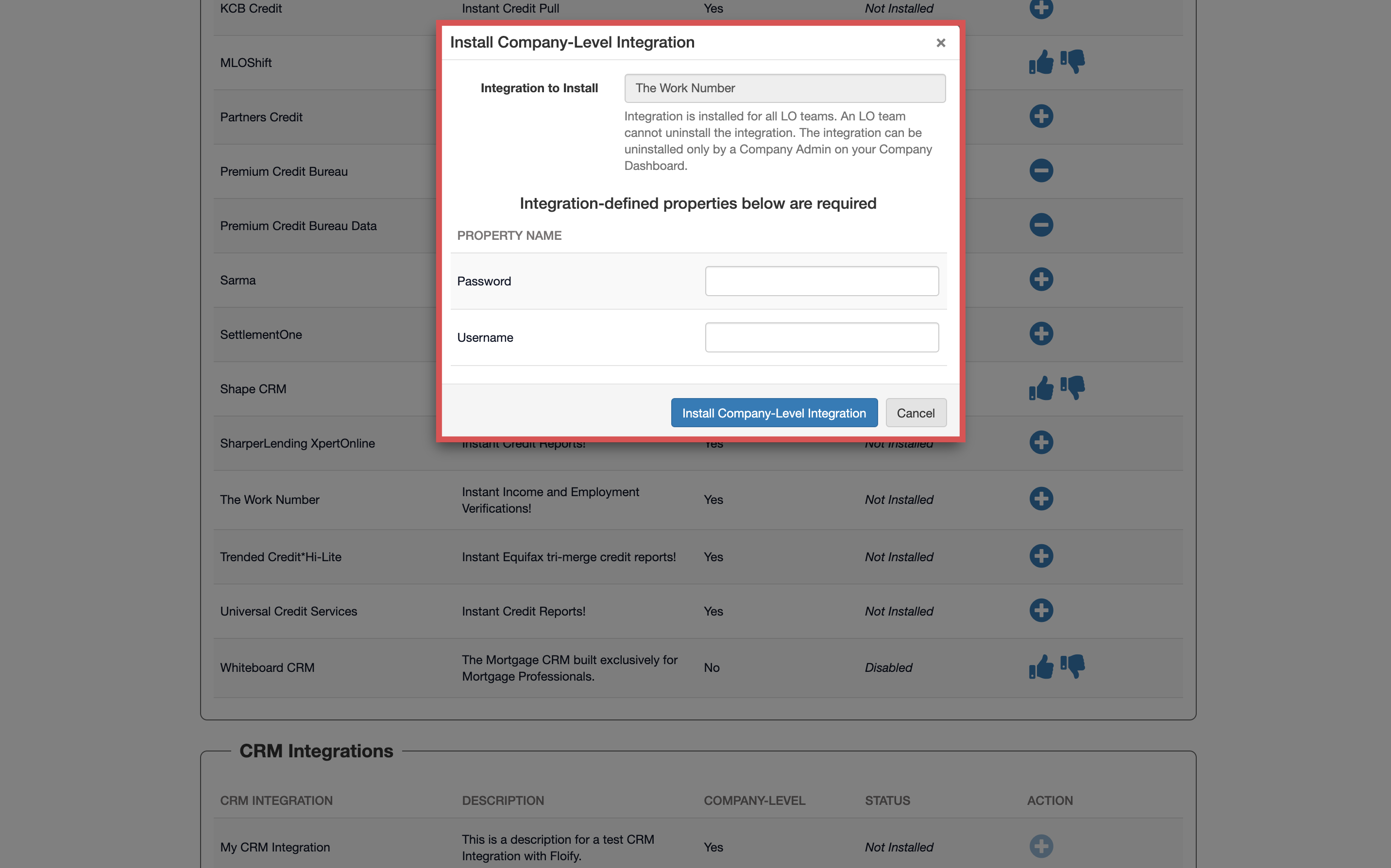 Navigate to Home and switch back into the user's account:
Click the red, yellow, or green buckets to get into the desired borrower's loan flow:


Select the Add New Doc button:


Locate the option to initiate a The Work Number Request: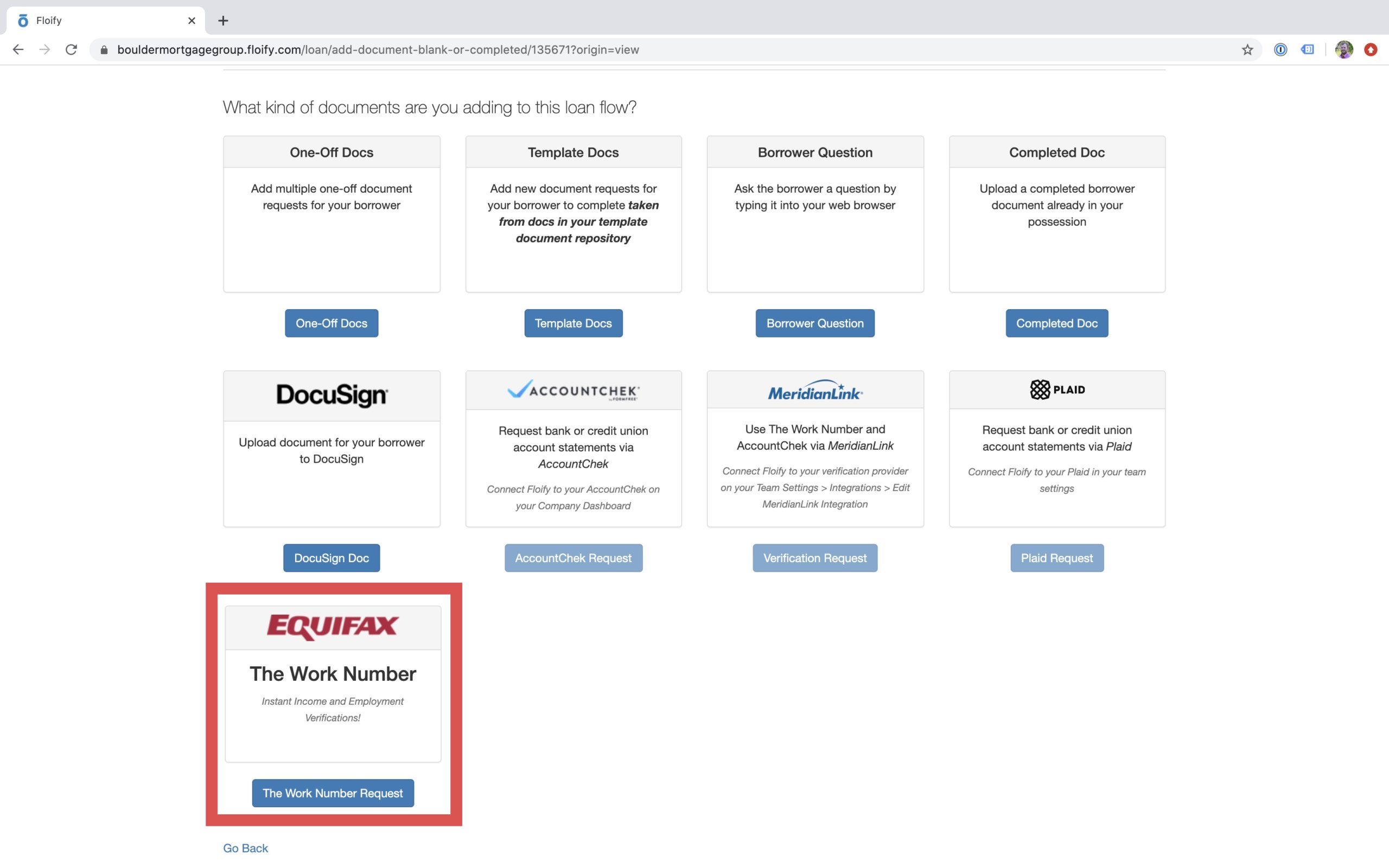 Complete the The Work Number Order Form and select the option to Place Order: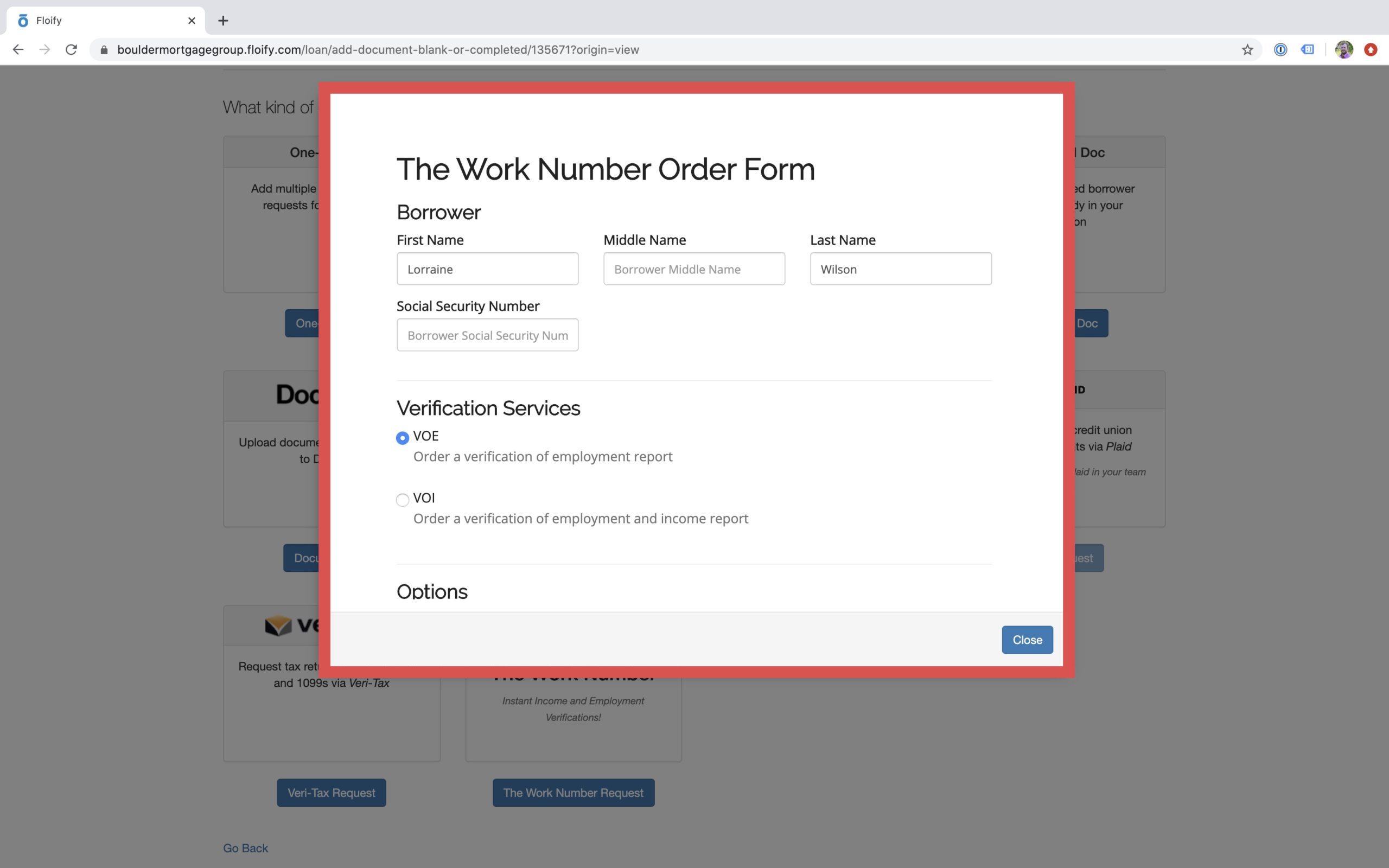 You will receive a Success message once the order has been placed:

After submitting the order form, the borrower's VOE/VOI report will be delivered to the yellow bucket of the corresponding loan flow within moments: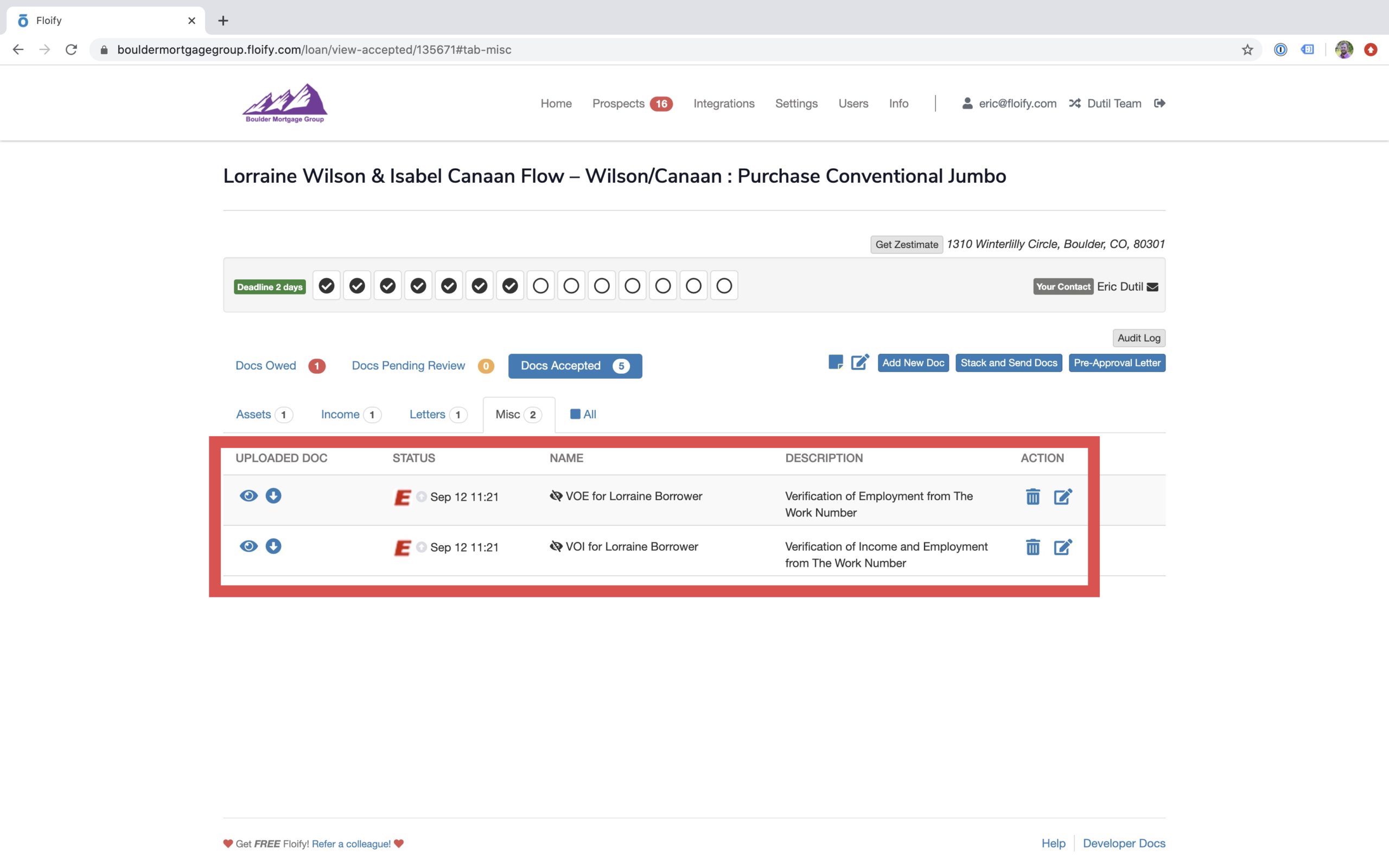 Ready for review!