Who is Surefire by Top of Mind?
Top of Mind's Surefire CRM is the #1 most used sales and online marketing platform for the mortgage industry. Simple to use and implement, thousands of mortgage professionals from individuals to large enterprise clients successfully use Surefire to manage and grow their sales pipeline.
We ensure this growth by placing our customers top of mind with their database through the development and automation of personalized, one-to-one marketing campaigns to their prospects, in-process loan customers, and past clients.
Integration type: CRM
What will the Floify—Surefire by Top of Mind Integration support?
Loan originators who utilize Top of Mind's Surefire CRM to power their customer database and marketing workflows can now connect the CRM with their Floify point-of-sale to help streamline redundant data processes.
When the integration is configured and active, Surefire will automatically create new leads within the CRM from a Floify loan flow or application.
This automated action ensures that new borrower prospects who start and submit an application from the LO's apply now page are simultaneously created in the LO's Surefire CRM, without requiring staff to duplicate data entry. Surefire lead data can also be created when a prospect submits their application and/or when the LO starts a new loan flow manually.
How to Set Up and Use
Before you start the process on the Floify side, you'll need to contact Top of Mind/Surefire and ask them to set up "mapping" for your Surefire CRM Integration. You can move on with the steps below while this is in-progress, but this must be complete for your Floify/Surefire CRM Integration to work.
From the team pipeline, choose the team name in the upper right-hand corner and select the option to navigate to the Company Dashboard:
Navigate to the Company Settings and select the Integrations tab: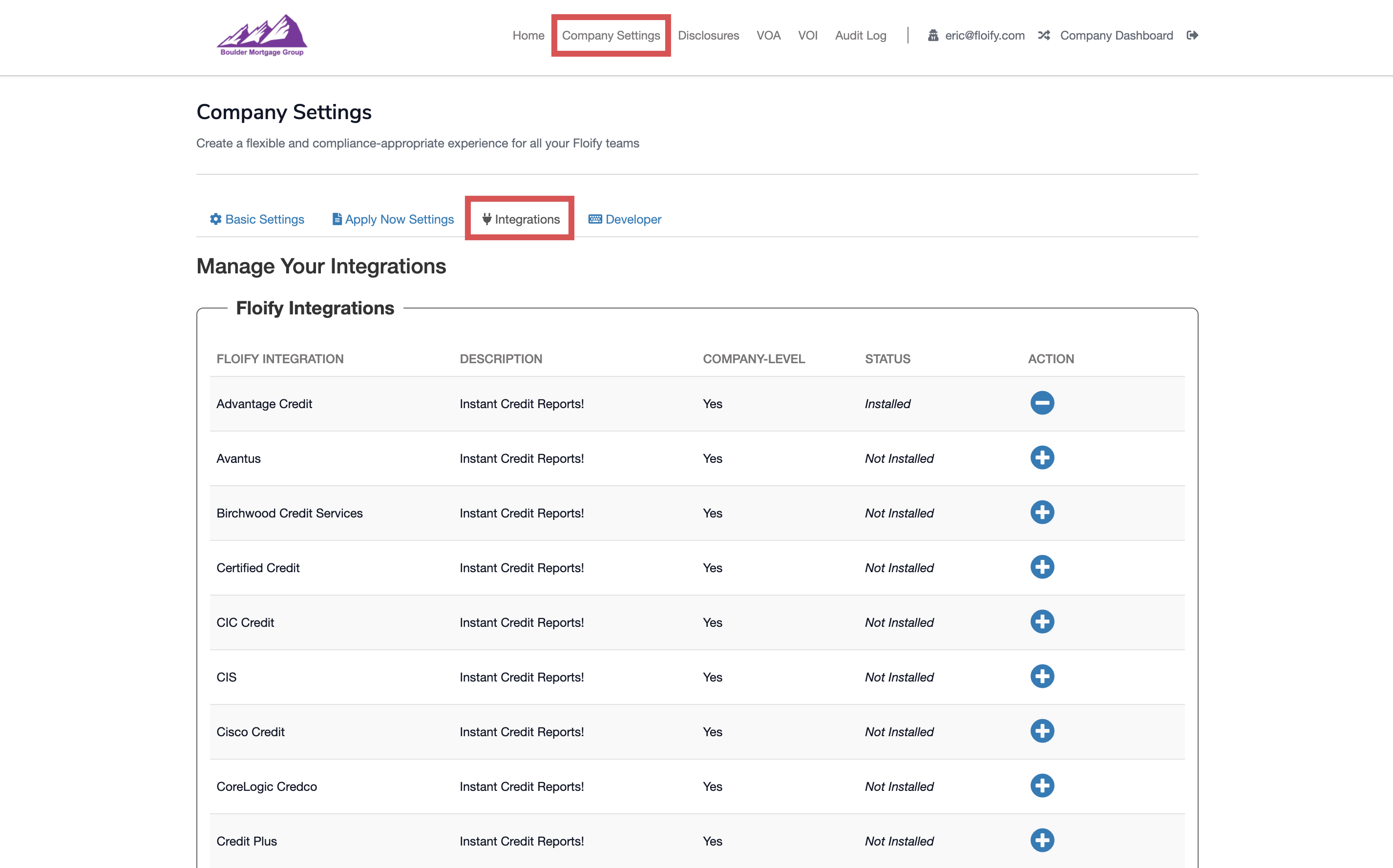 Scroll down to CRM Integrations and locate Surefire. Select the plus sign towards the right to install the integration: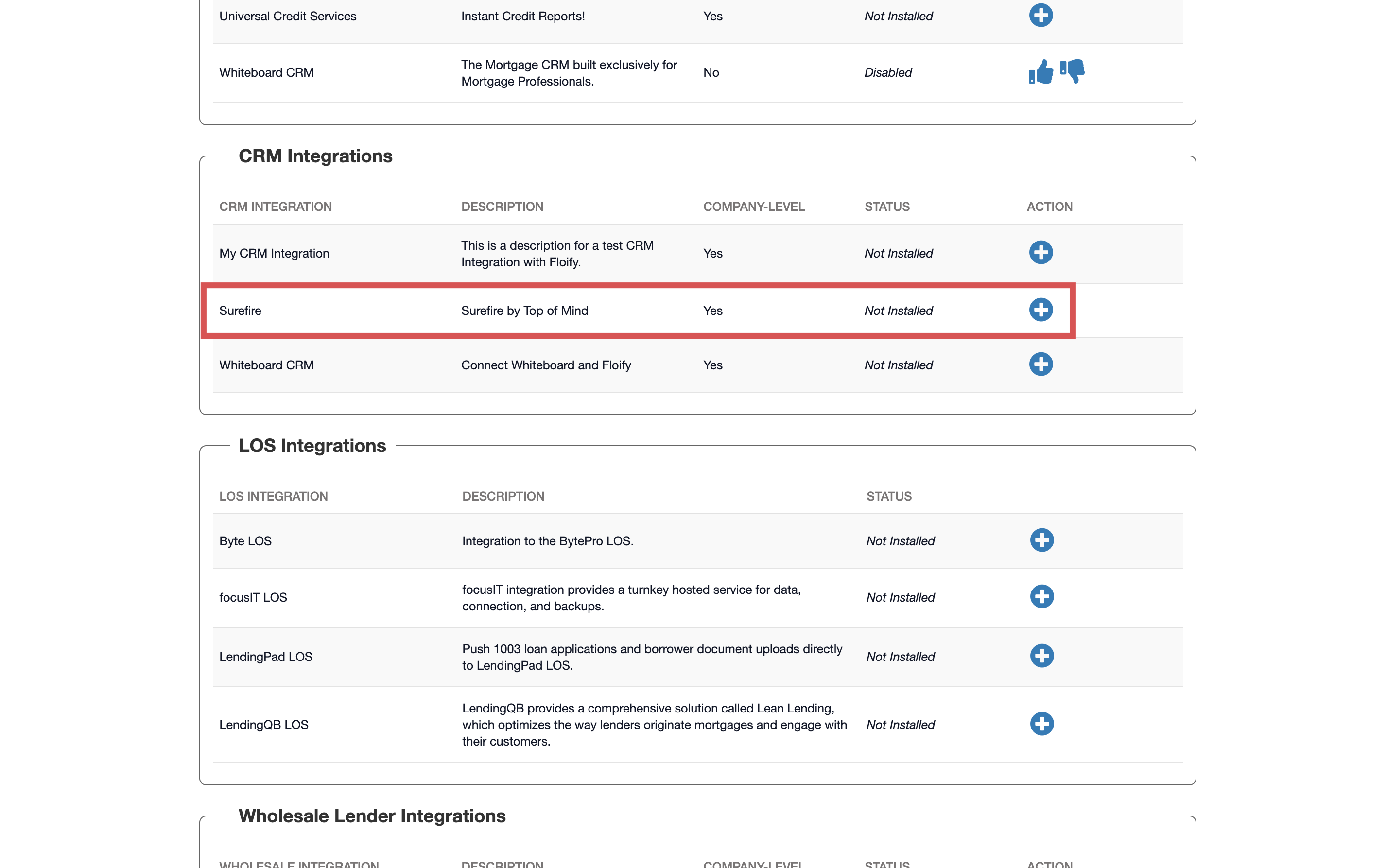 Enter the API Key and Client Key from Surefire. Additionally, you'll need to enter your Floify API Key. Select Install CRM Integration to confirm the changes:
Note: Your Floify API Key can be found by clicking on your email address in the top right hand corner in the 'Profile' section. You can find more instruction on find this here:
User API Key.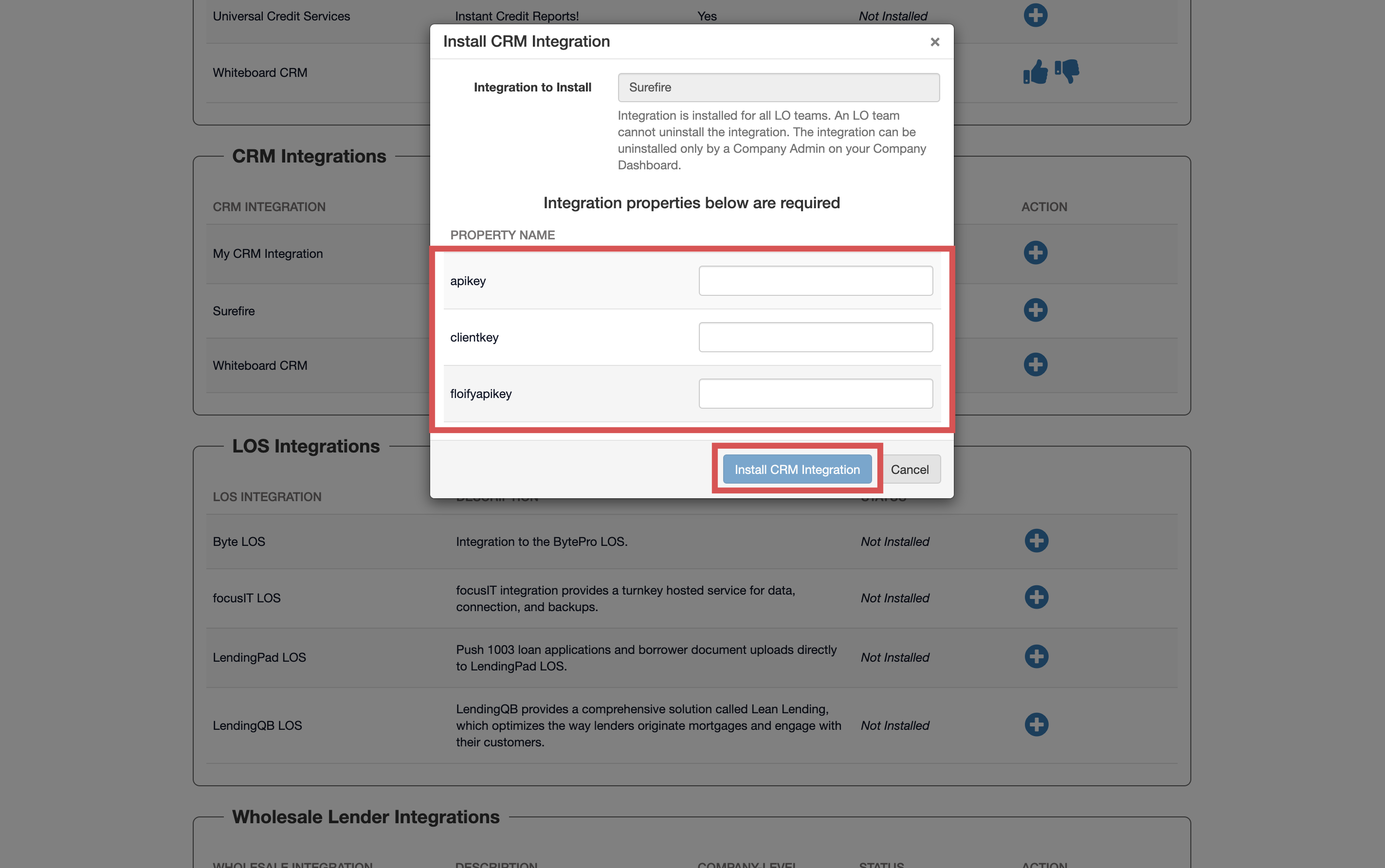 Navigate back Home and select the icon towards the right of the team name to finish configuring the CRM properties: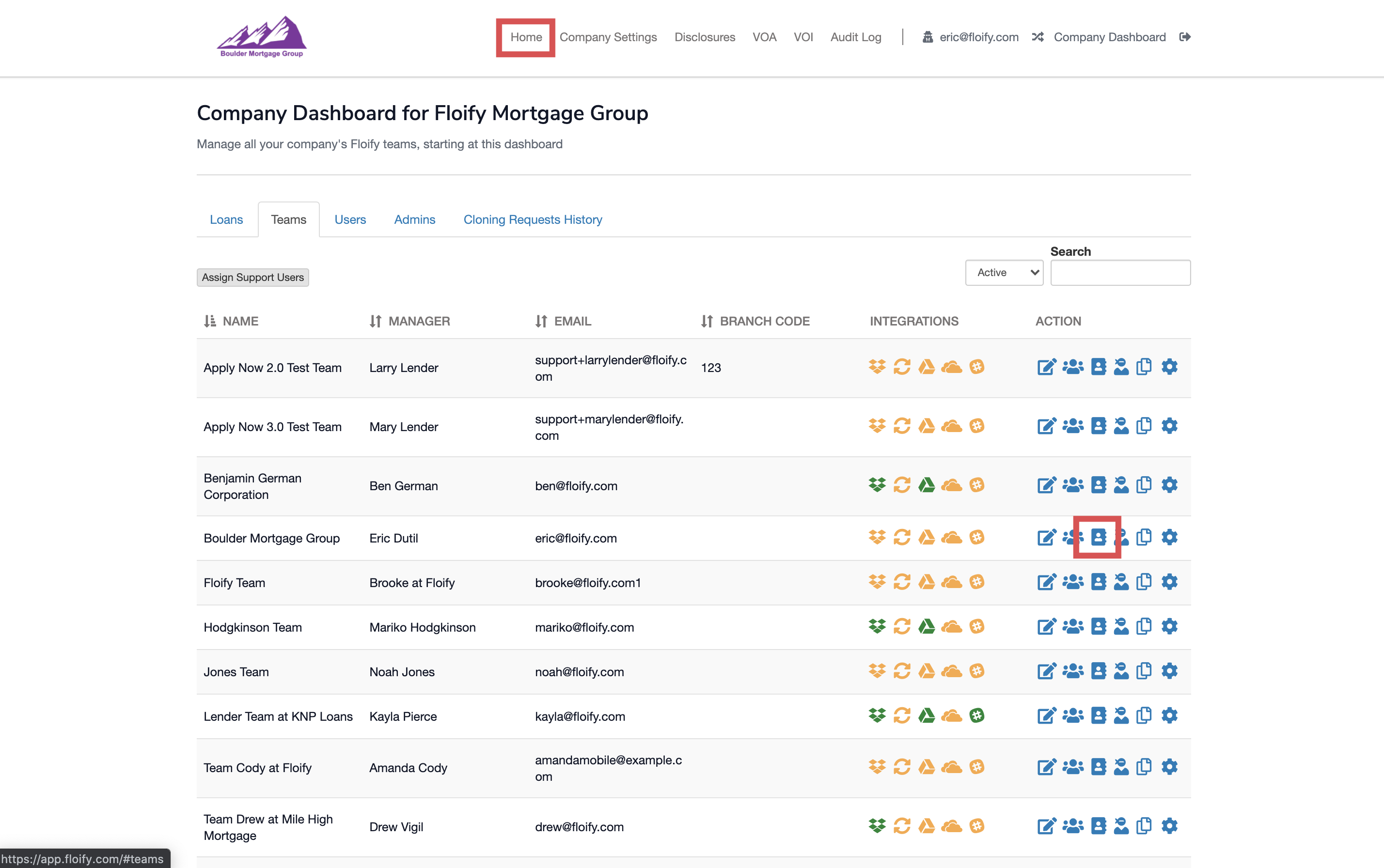 Enter the email address associated with the Surefire account:
Navigate to Home and switch back into the user's account:
Begin a new loan application to capture the required data and create a new contact in Surefire.
Data required:
Date of Birth
First and Last Name
Contact Info
Current Address
Co-Borrower Date of Birth
Co-Borrower First and Last Name
Co-Borrower Contact Info
Co-Borrower Current Address
After submitting a new loan application, a new contact is created in Surefire:
If you have any questions for Top of Mind's team, please contact:
Support: help@topofmind.com
Sales: sales@topofmind.com or call (866) TOP-MIND