Overview
The loan pipeline is where you will manage all of your borrowers, including reviewing application and document data, making adjustments to the loan flow, and locating any additional information regarding the loan.
Among these options, you will have the option to update a borrower's milestones.
Milestone updates can be sent out to individual borrowers as well as realtors/partners or third party contacts to keep everyone informed as far as where you are at in the loan flow process.
How to Use
From the team pipeline, locate the borrower you'd like to send the update out for and enter the loan flow using the red, yellow, or green icons towards the left hand side: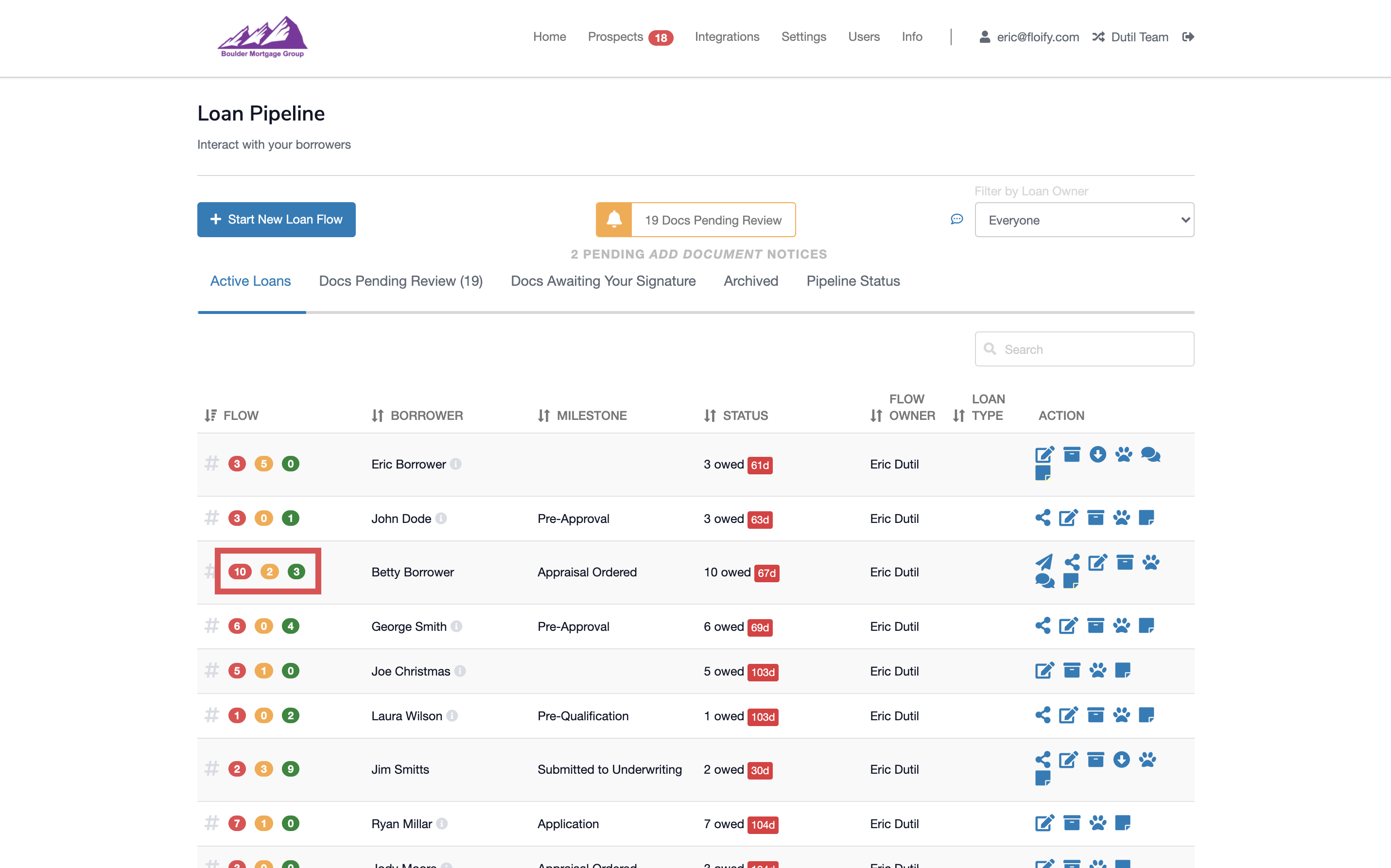 Click on the appropriate milestone bubble up at the top:
Note: You can hover over any of the bubbles to see the name of the milestone.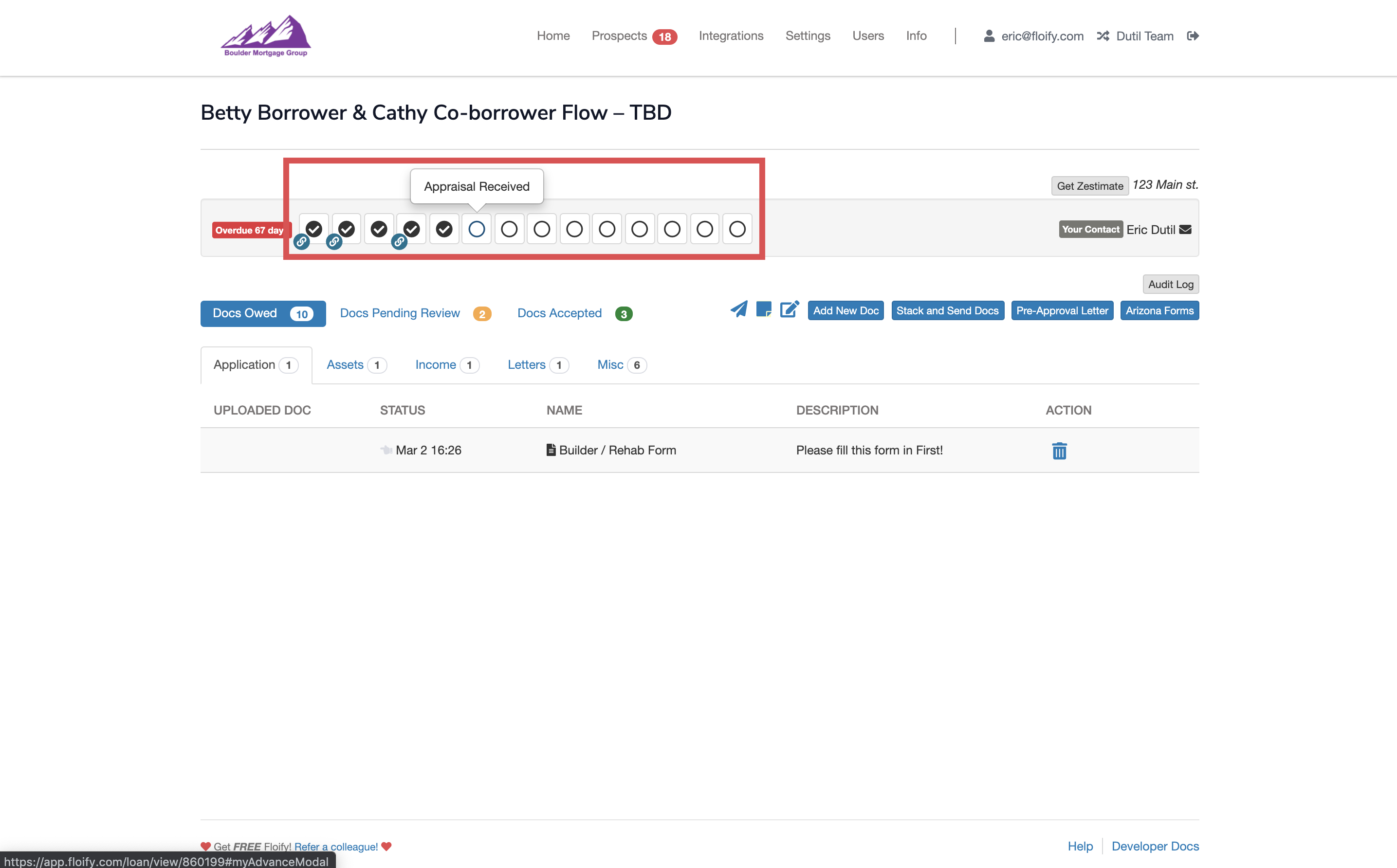 Here is where you will fill out the details for the milestone update. Enter the property address: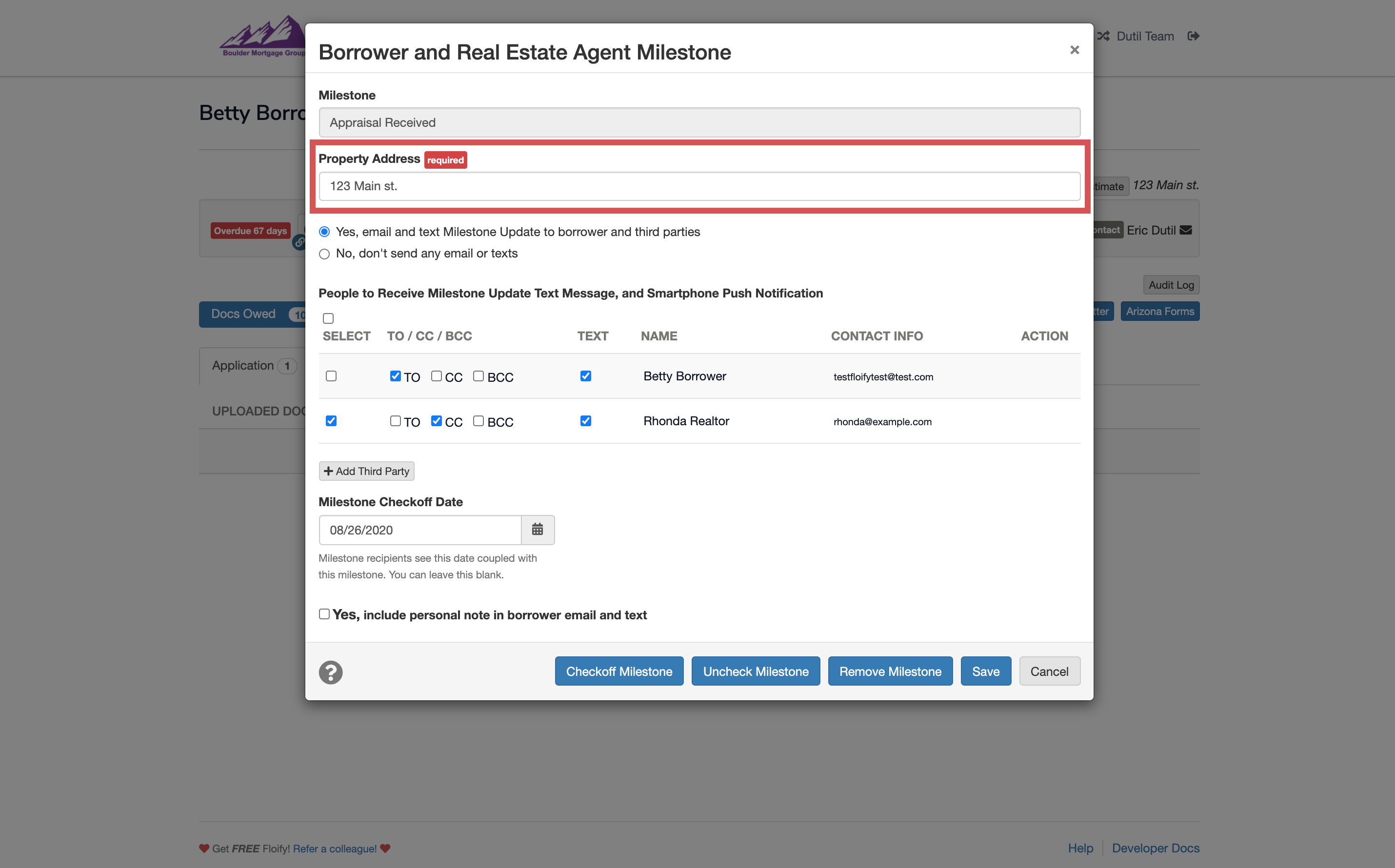 Select whether or not you wish to send out milestone updates via email/text. Below you'll see the borrower opted in automatically, the realtor/partner CC'd automatically (if included in the loan flow) and the option to add a third party if you wish to include another recipient:
Note: To opt a recipient into text message notifications, you can select the 'Text' column in additional to the email option on the left.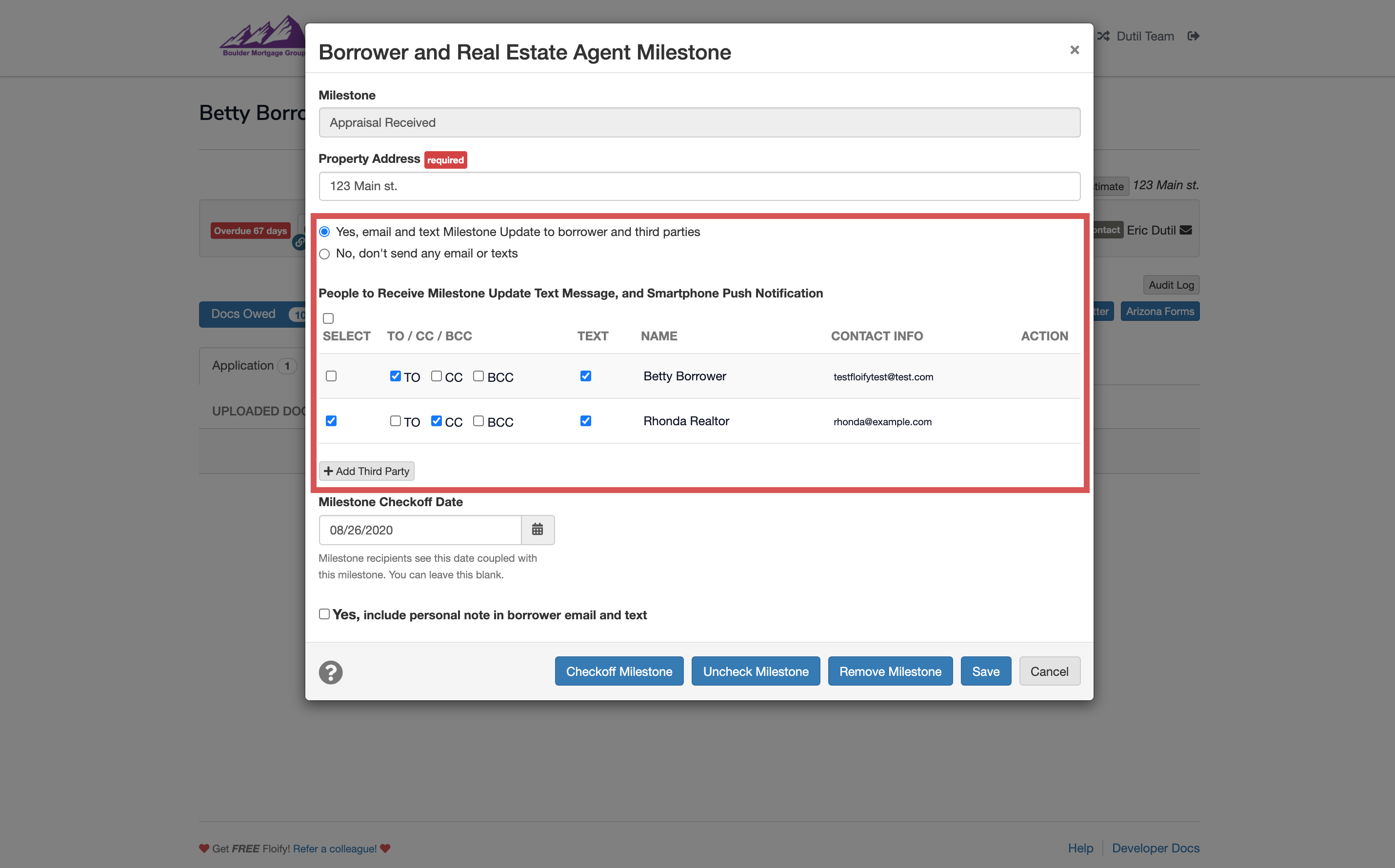 Enter the milestone checkoff date and select the option to enter a personal note in addition to your template if you'd like: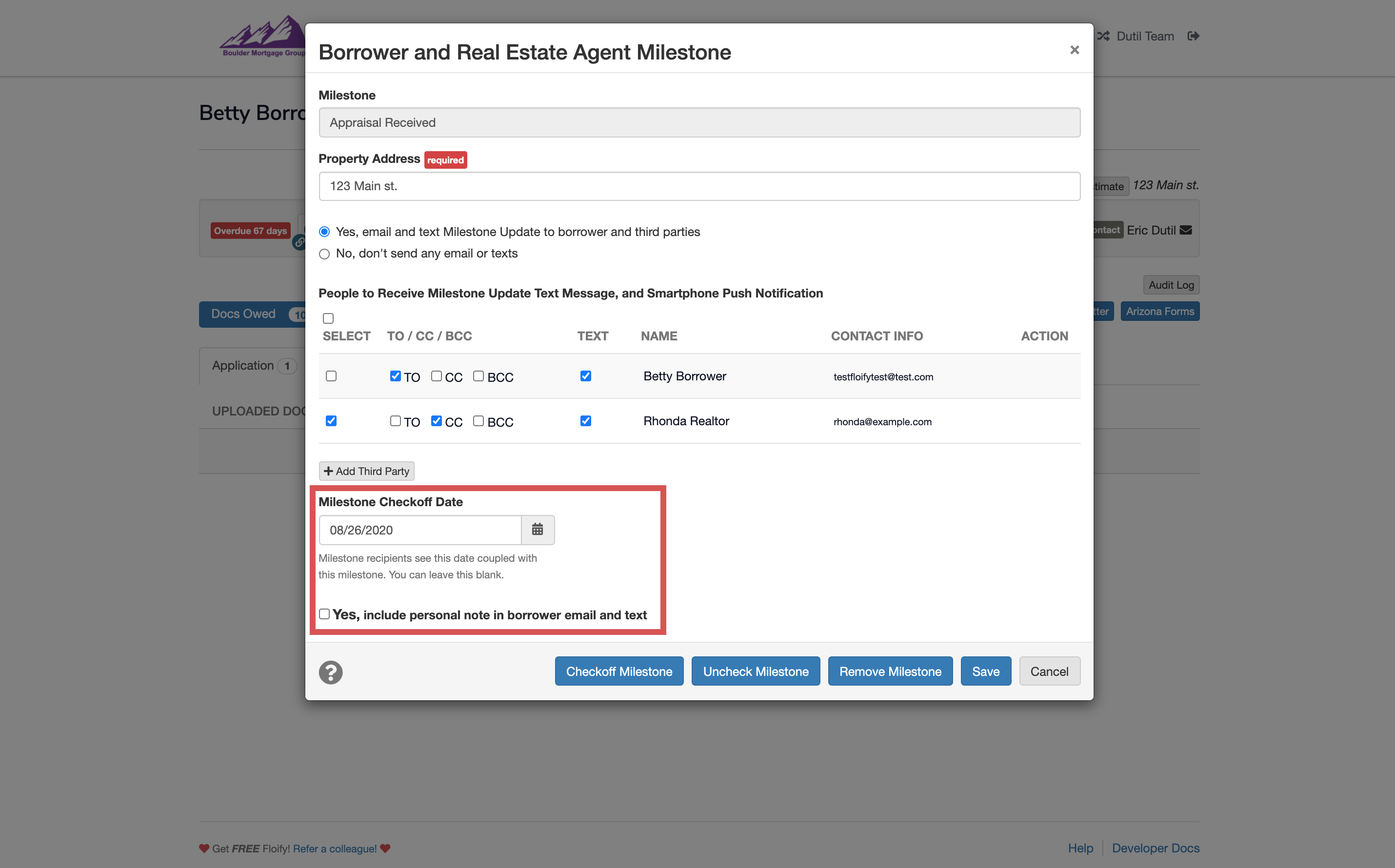 You'll see 4 options listed at the bottom:
Checkoff Milestone - This will send out the milestone notification and mark off the milestone.
Uncheck Milestone - If a milestone has already been checked off, you can go ahead and uncheck it here if necessary.
Remove Milestone - This will remove the milestone from the loan flow for this borrower entirely. Use this option with caution as once a milestone is removed, we don't have a way to add it back.
Save - This will just save the changes you've made to the details above.
Once you checkoff a milestone, you will see a checkmark displayed in the bubble for the corresponding milestone, and the date will be listed next to the name of the milestone:
Note: This is visible in the lender portal, the borrower portal, and the realtor/partner portal.