Overview
The Company Dashboard allows for multiple individual accounts to be housed under a single Company Account. As a company admin, you'll have access to different company settings, overrides, and users.
Among these settings, you'll have access to enable Encompass conditions to Floify document requests. This allows for LO teams to sync up conditions requested from Floify directly to their Encompass conditions.
How to Set Up
Encompass Settings
Before you enable this in Floify, there are a couple of settings you need to check in Encompass in order to pass them along to Floify. In Encompass, go to the loan file and click on the eFolder button to view the different condition tabs.
Select the condition you'd like to send and make sure you have the following settings selected:
In the Details section of the condition, Print should reflect whether you want to send it internally or externally.

Please note that you will need to have the corresponding Print configuration selected in your Floify Company Settings. For example, if you choose to print an underwriting condition internally but you only have 'Print Externally' checked in Floify, it will not go out.

In the Tracking section > Status > 'Requested' or 'Re-requested' should be selected.
Please note that while we used Underwriting Conditions in this screenshot example, you can send Preliminary, Underwriting, and Post-Closing conditions to Floify.
Floify Settings
From the team pipeline, choose the team name in the upper right-hand corner and select the option to navigate to the Company Dashboard:
Navigate to Company Settings and then Basic Settings: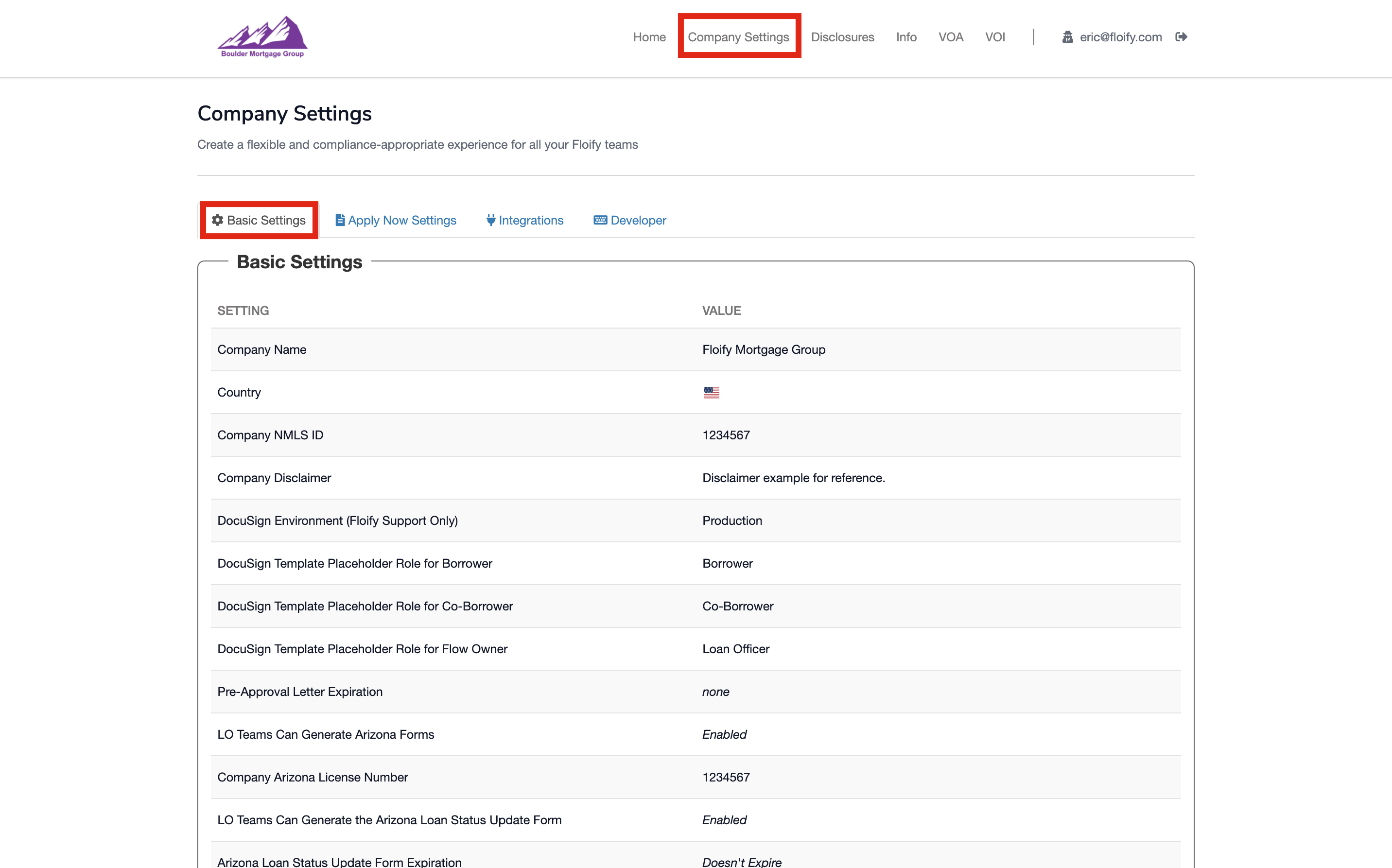 Scroll down to LOS Settings and locate the option Conditions from Encompass. Select the option to Manage on the right: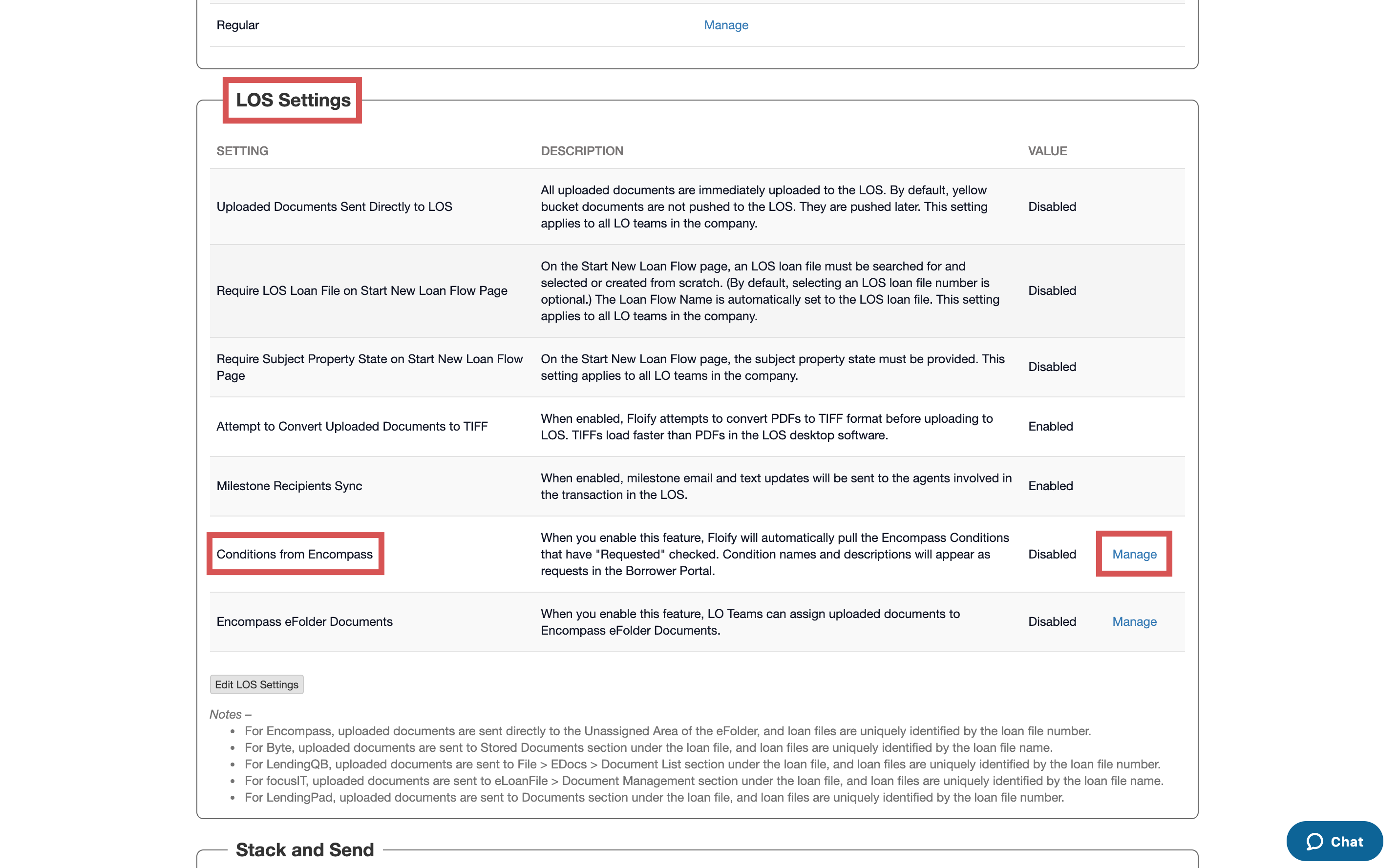 Select the option to Enable Automatic Conditions from Encompass and choose if you prefer to allow or require use of the automatic conditions: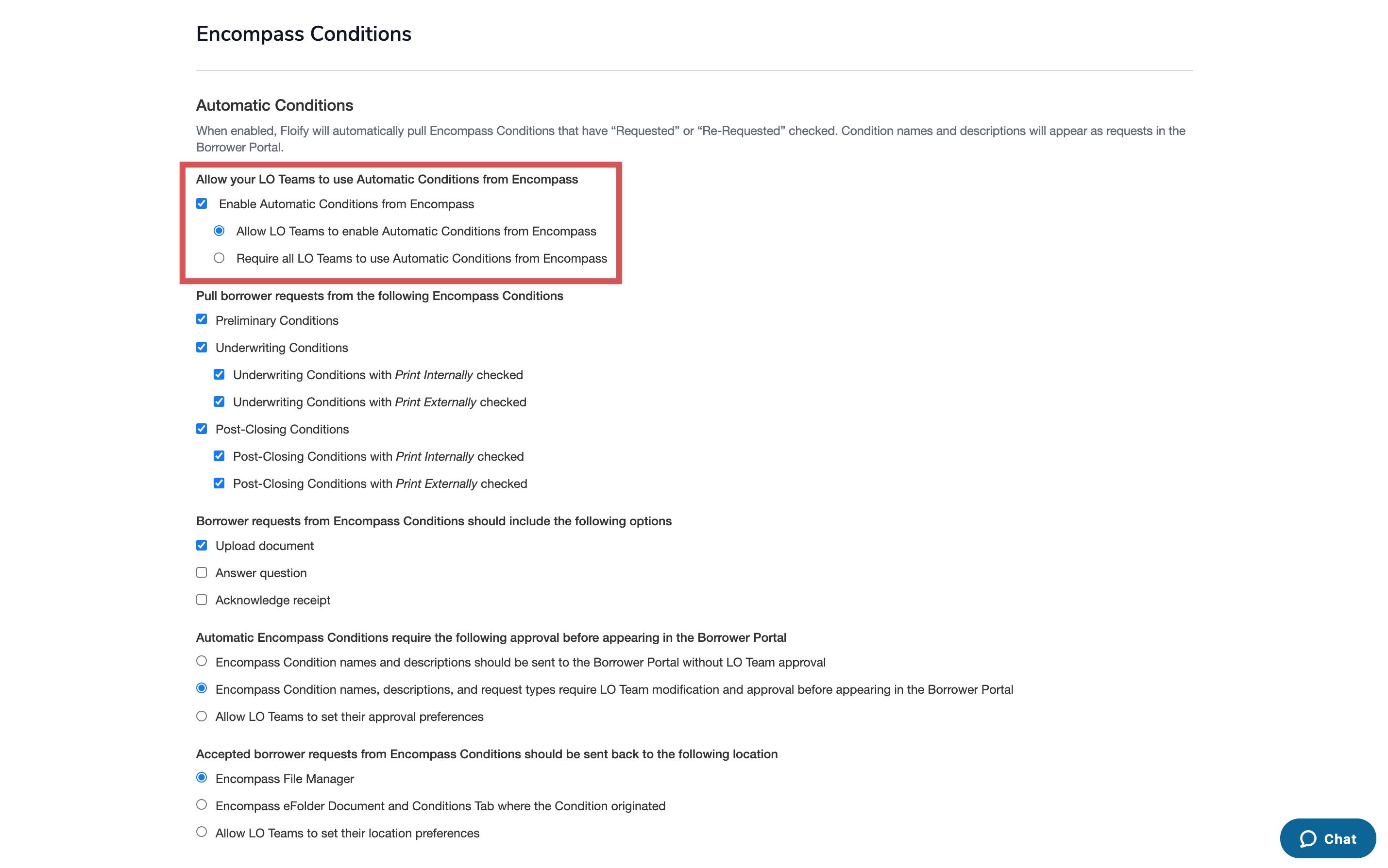 Select the detailed options including which Encompass Conditions tabs you'd like to pull from, which options are available for borrower requests from Encompass Conditions, which approval is required, and where accepted requests from Encompass Conditions are sent. Make sure you select Save to confirm the changes: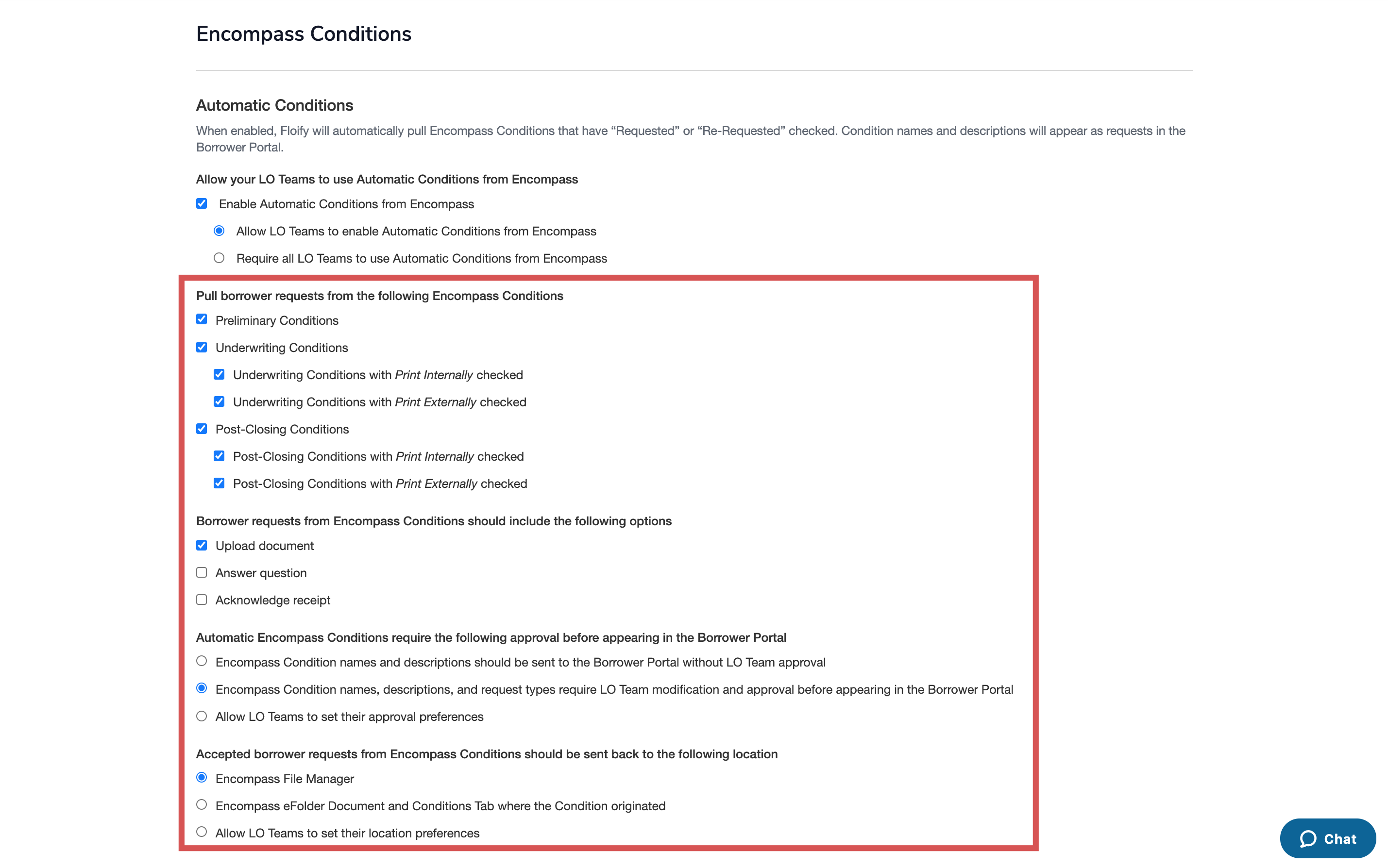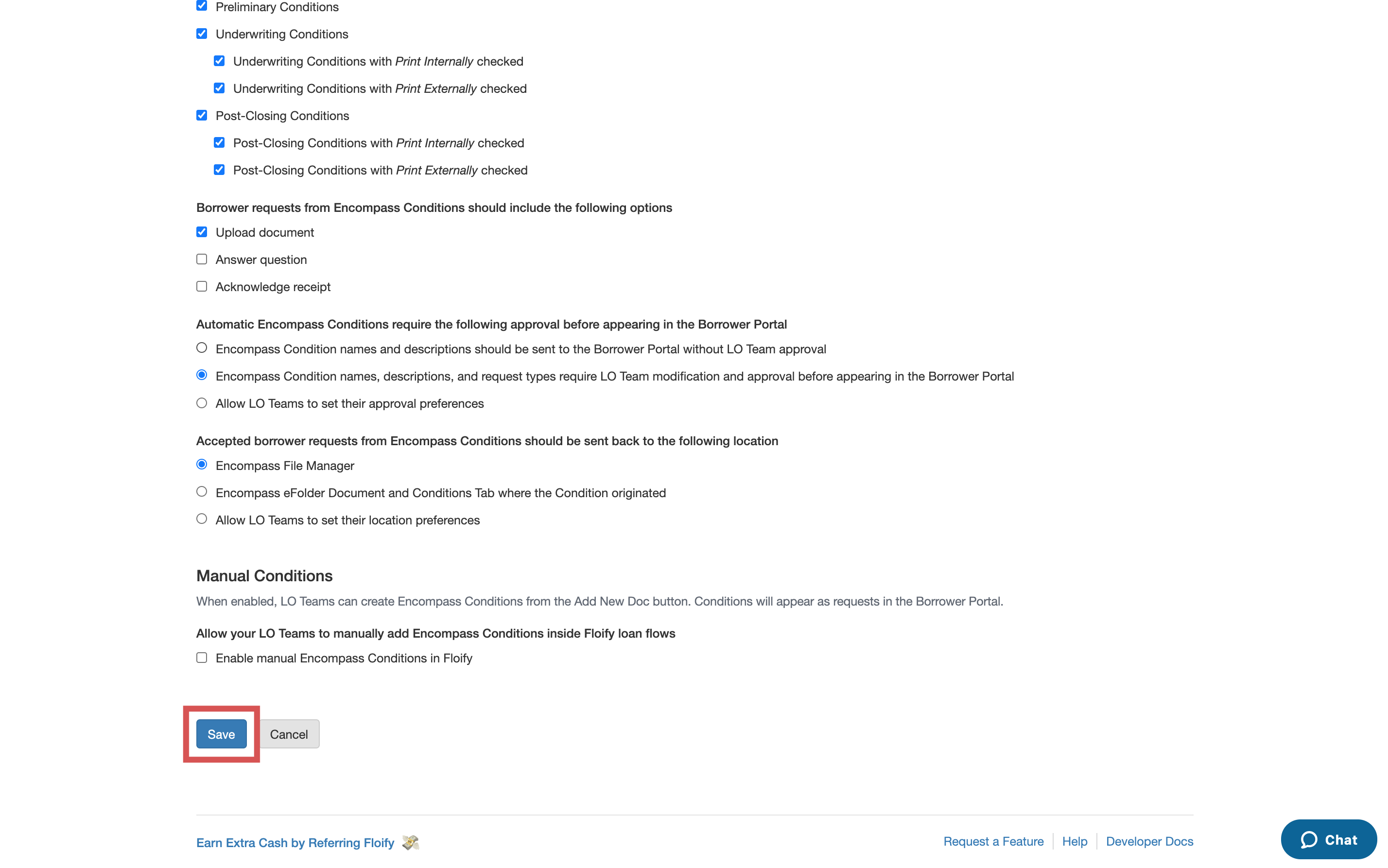 You are now set to send Encompass Conditions to Floify!