Who is AFR Wholesale?
American Financial Resources, Inc. (AFR), the leading FHA 203(k) lender for sponsored originations in the country and an innovator in the construction and renovation lending area, is ranked among the nation's leading companies in the annual Top Mortgage Lenders rankings published by Scotsman Guide. AFR utilizes the latest technology and delivers educational resources to mortgage brokers, loan originators and their customers.
Learn more at www.afrwholesale.com.
Integration type: Productivity
What will the Floify—AFR Wholesale Integration support?
By utilizing Floify's point-of-sale integration, AFR's broker partners will be able to quickly and easily process borrower loan applications, securely send and receive supporting documentation, automatically deploy status updates and reminders via email and SMS, and more – all from a single, intuitive user interface.
Quickly link existing loans in AFR Loan Center to a corresponding Floify loan flow.
Seamlessly import a 1003 loan application into your AFR Loan Center pre-registered pipeline.
Integrated document uploading securely expedites the document review process.
Provides flexible loan submission options, including the ability to import an existing Fannie Mae formatted file, when registering the loan in AFR Loan Center.
AFR can be used by itself, or in conjunction with any LOS integration.
How to Set Up and Use
From the team pipeline, choose the team name in the upper right-hand corner and select the option to navigate to the Company Dashboard:

Navigate to Company Settings and select the Integrations tab:

Scroll down to Wholesale Lender Integrations. Select the plus sign towards the right of AFR Wholesale to install: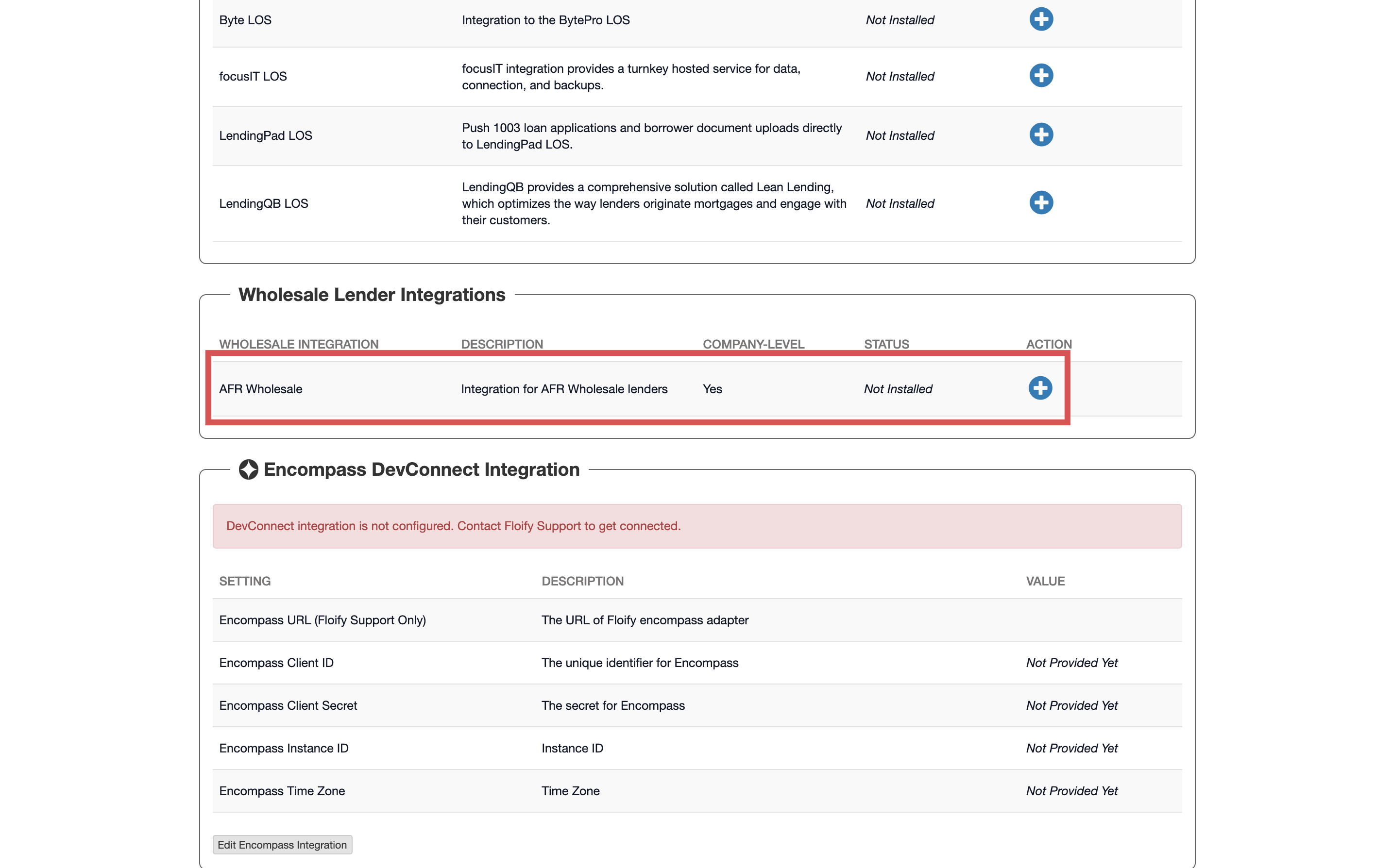 You will be required to enter an API Key. This can be found within your AFR Wholesale account under Administration in Integrations. Make sure you select Install Wholesale App to confirm: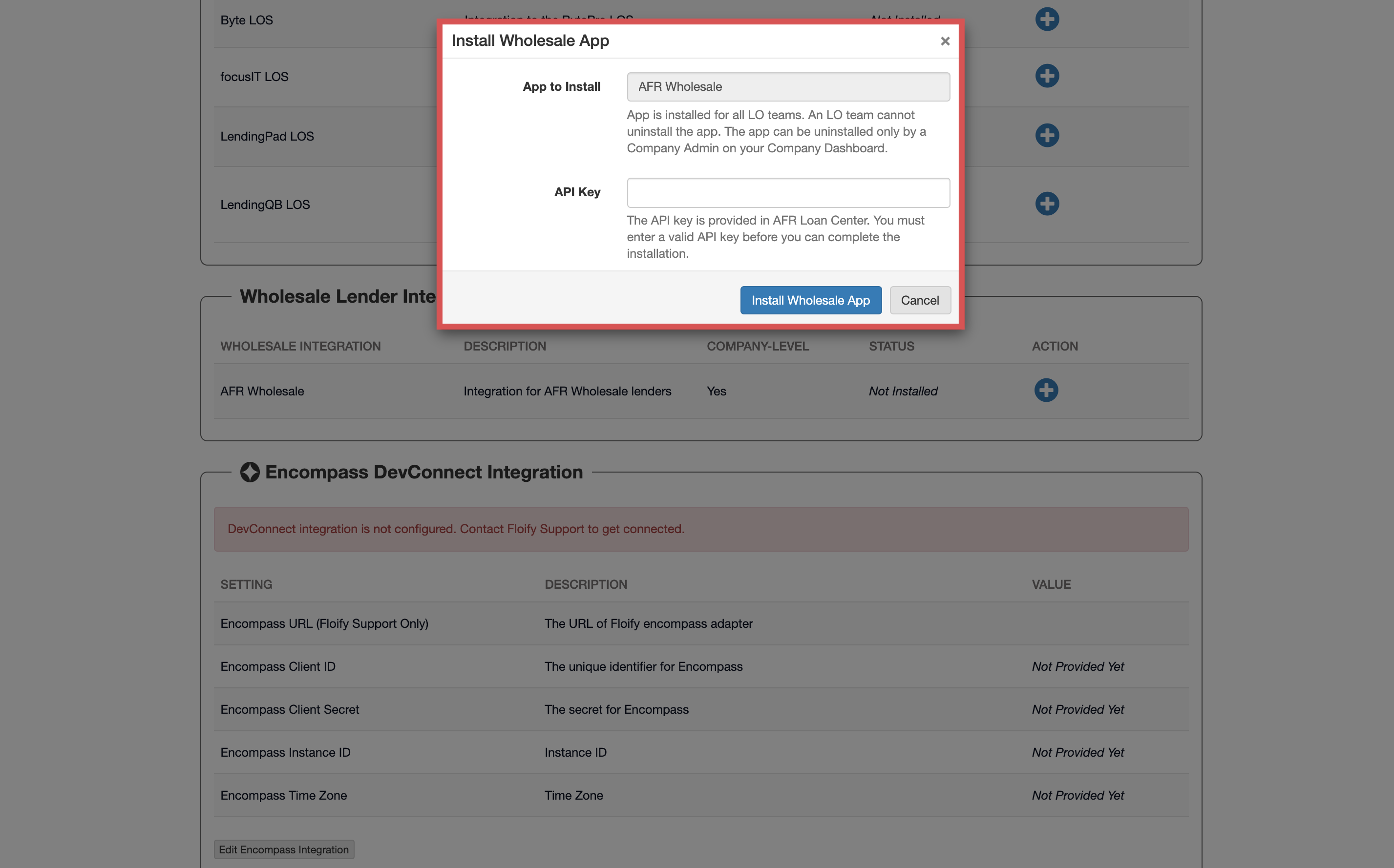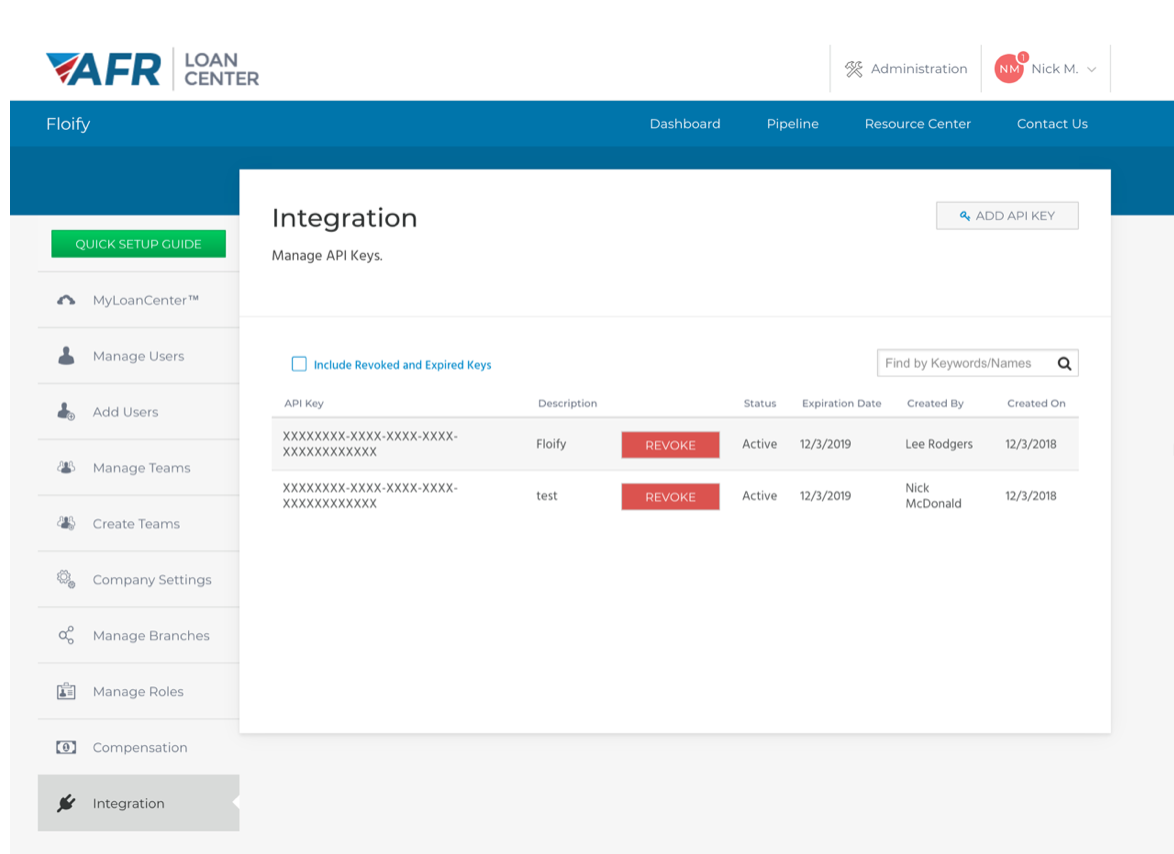 Navigate to Home and switch back into the user's account:
From the team pipeline, navigate to Settings and select the Integrations tab:
Scroll down to Wholesale Integrations and select the option to Manage Wholesale Integrations: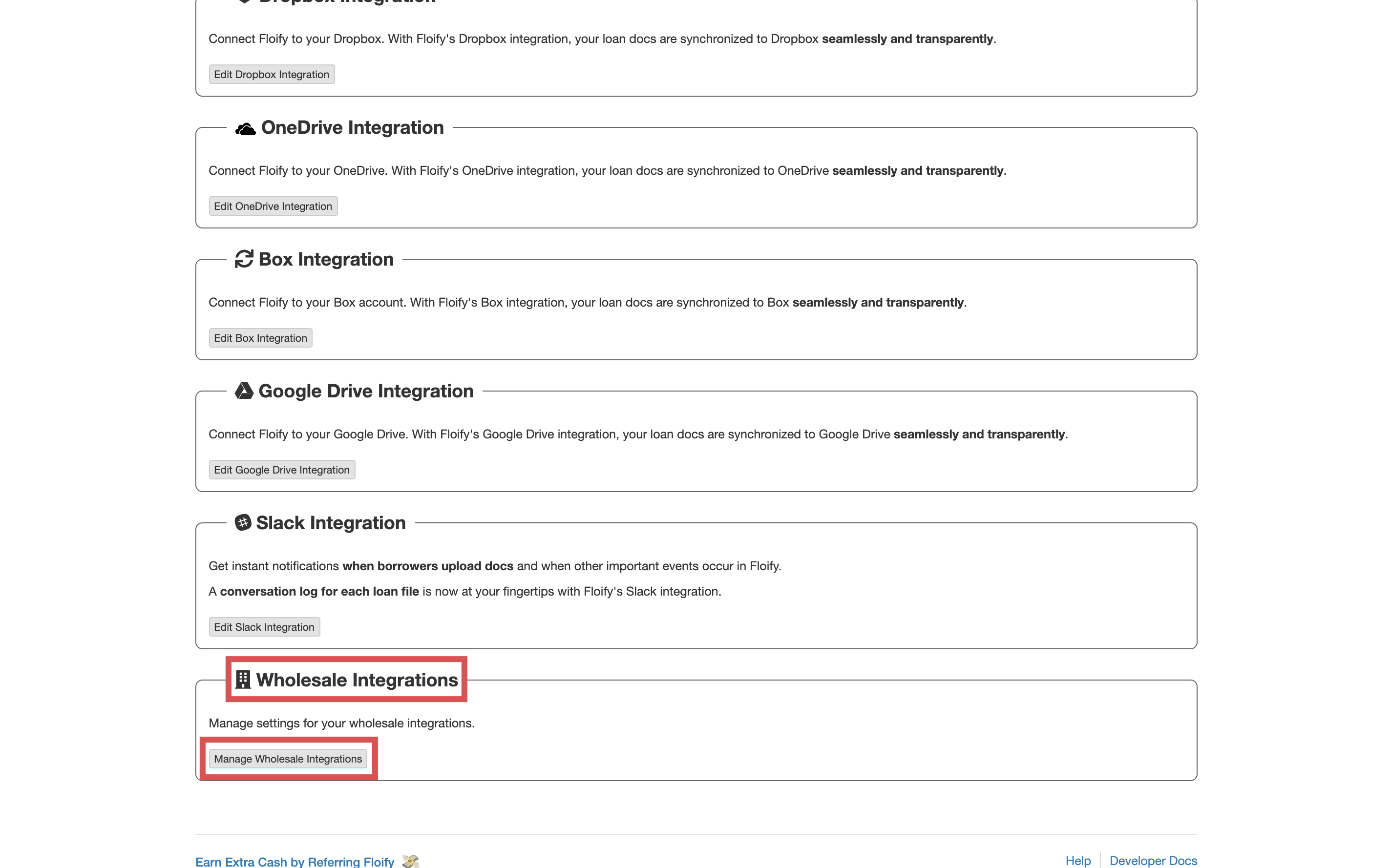 Choose a default wholesale integration, and optionally, whether you want to automatically upload documents when accepted. Make sure you select Save to confirm the changes: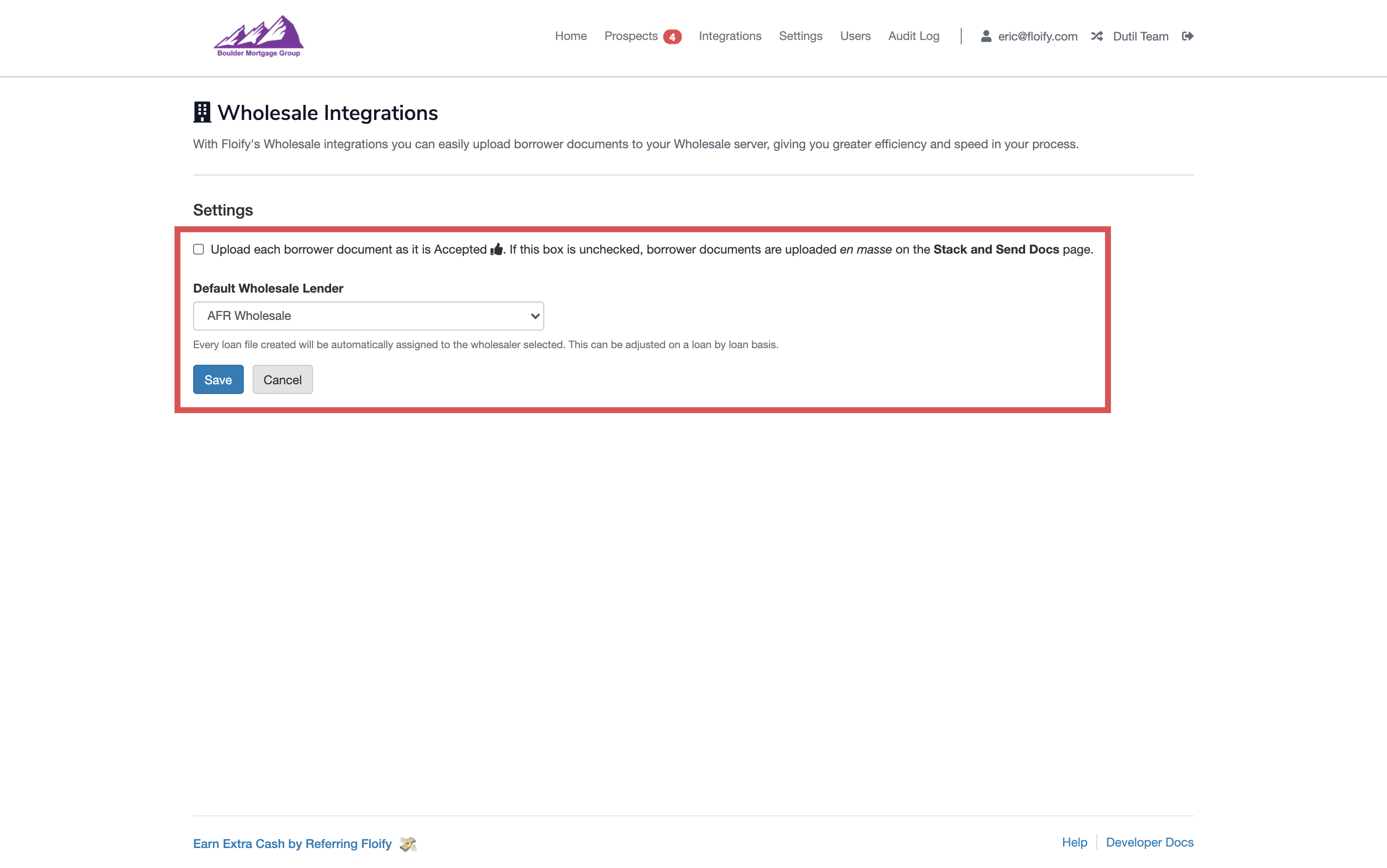 The integration is ready for use!
When a prospect application is submitted, Floify will automatically create an AFR Wholesale loan file. When the loan is created in AFR, it is created as a pre-registered loan and appears under the PRE-REGISTERED LOANS pipeline.
Consent documents are uploaded as PDFs and 1003 data is pushed over. An AFR icon will appear as an action icon linking you directly to the loan file in AFR: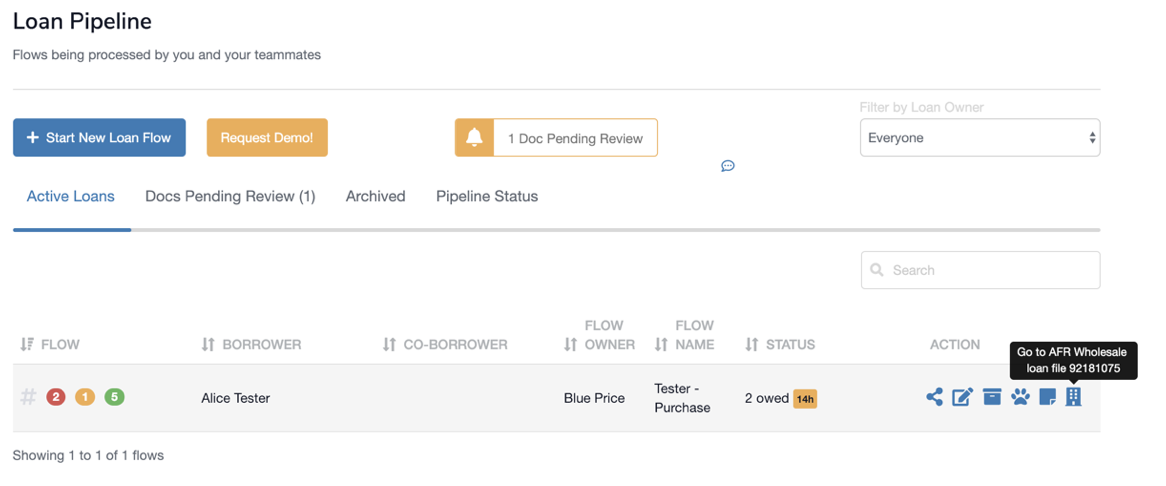 Clicking on the link will take you to your AFR loan: