Who is Branch Insurance?
Branch Insurance utilizes innovative technology to make bundling home and auto insurance online quicker and easier than ever before. By tapping into the power of community, Branch is on a mission to make insurance more accessible and affordable for everyone.
Use Floify's Branch Insurance integration to quickly and securely provide your customers an HOI offer. Floify's Branch Insurance integration increases the value customers receive from their relationship with you while helping them reach their dreams of homeownership.
Shorten Sales Cycle:

Branch's API integration allows customers to receive a HOI offer in just seconds. Just click & buy
Effortless:

Branch will digitally transfer HOI documents to Processors and LOA's.
Entangled:

Increase loyalty and LTV with an entangled loan/HOI process
Save Money:

Our exclusive partnerships result lower premiums for your customers
To learn more about Branch Insurance, visit ourbranch.com.
Integration type: Productivity
What will the Floify—Branch Insurance Integration support?
The Floify-Branch Insurance integration allows for lenders to quickly and securely provide their customers an HOI offer.
Branch Insurance is currently licensed in the following states: AZ, CO, DC, IL, IN, MD, MI, MO, OH, OK, TX, and WI.
How to Set Up and Use
The Branch Insurance integration is built and managed by Branch Insurance directly.
To set up the integration, please contact information@ourbranch.com or nate.gilpin@ourbranch.com.
For the Floify integration to work, the lender needs to have the following:
The lender must have subject property information enabled in their Apply Now 1003 configuration.
The lender must add a custom question to their Apply Now 1003 configuration asking the borrower if they would like to receive an insurance quote from Branch.
The company ID for the Branch integration.
A company administrator loan officer's API key.
Enabling Subject Property Information and Allowing the Customer to Opt-In to Receiving a Price in the Apply Now 1003 Configuration
Navigate to Settings and select the Apply Now tab: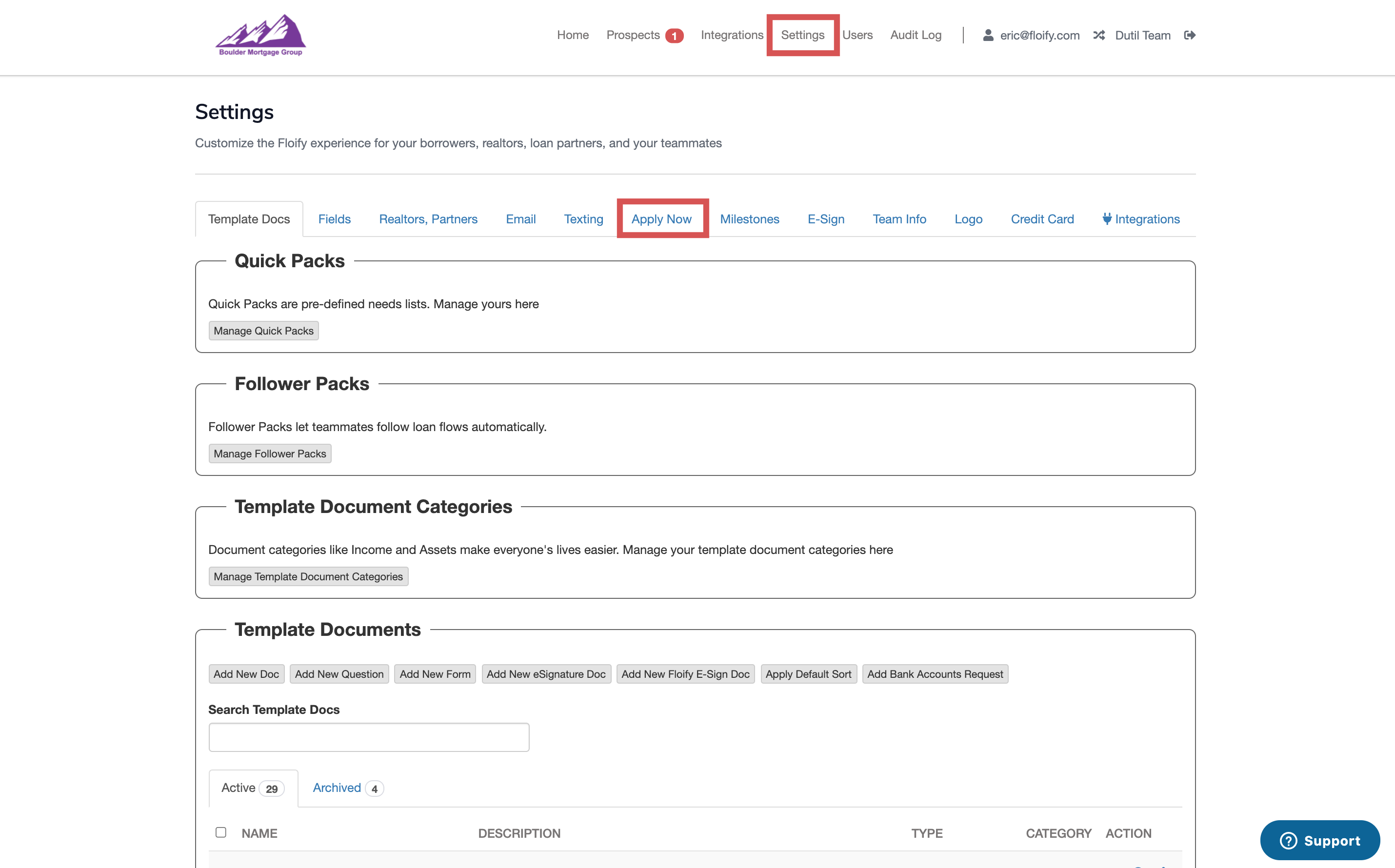 Scroll down to Apply Now Application Settings and select the option to Edit Apply Now Application Settings: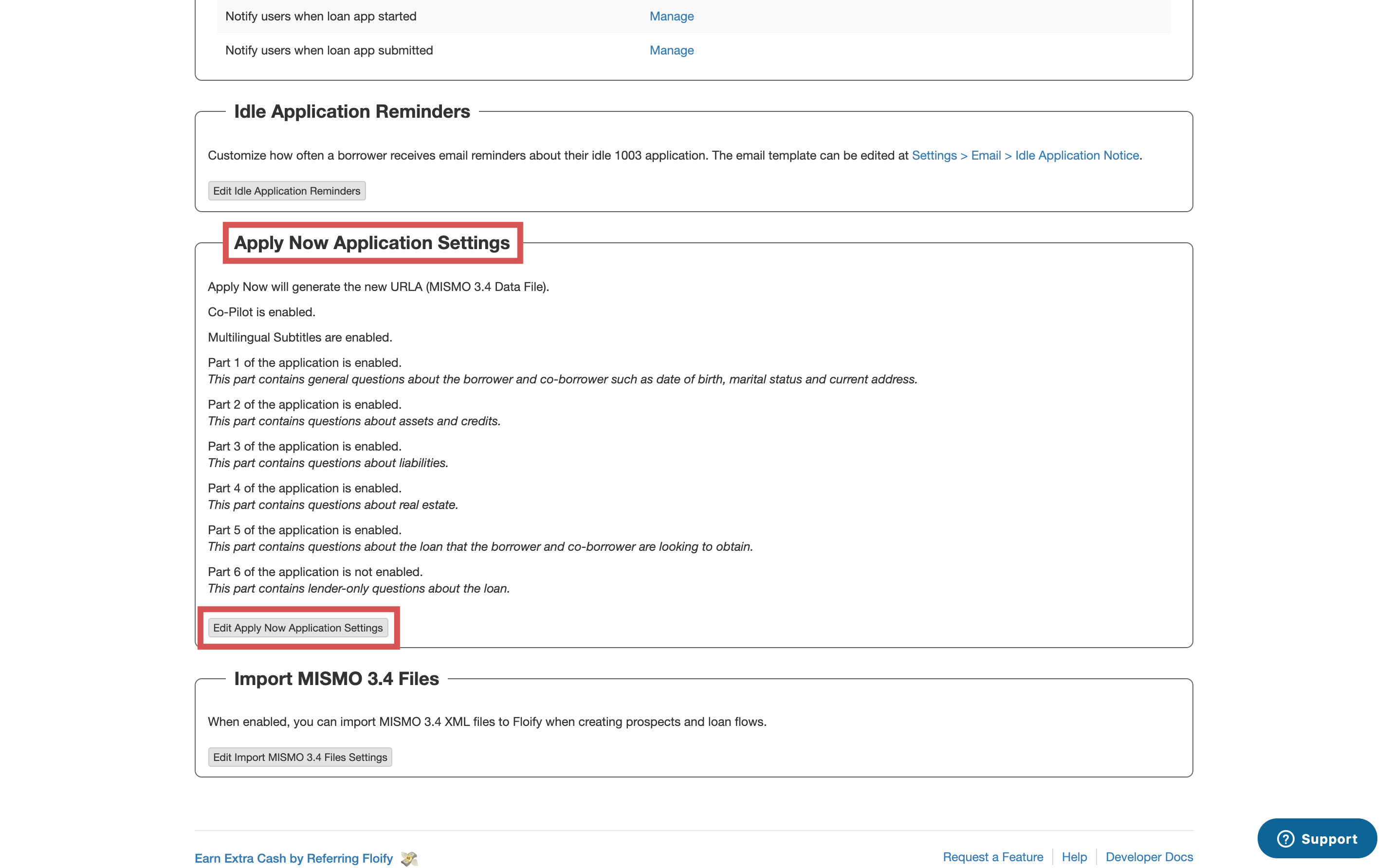 Scroll down to the Part 5 'Loan Information' section and check both the 'Include in Application' and 'Make Required' boxes for the Property Address field: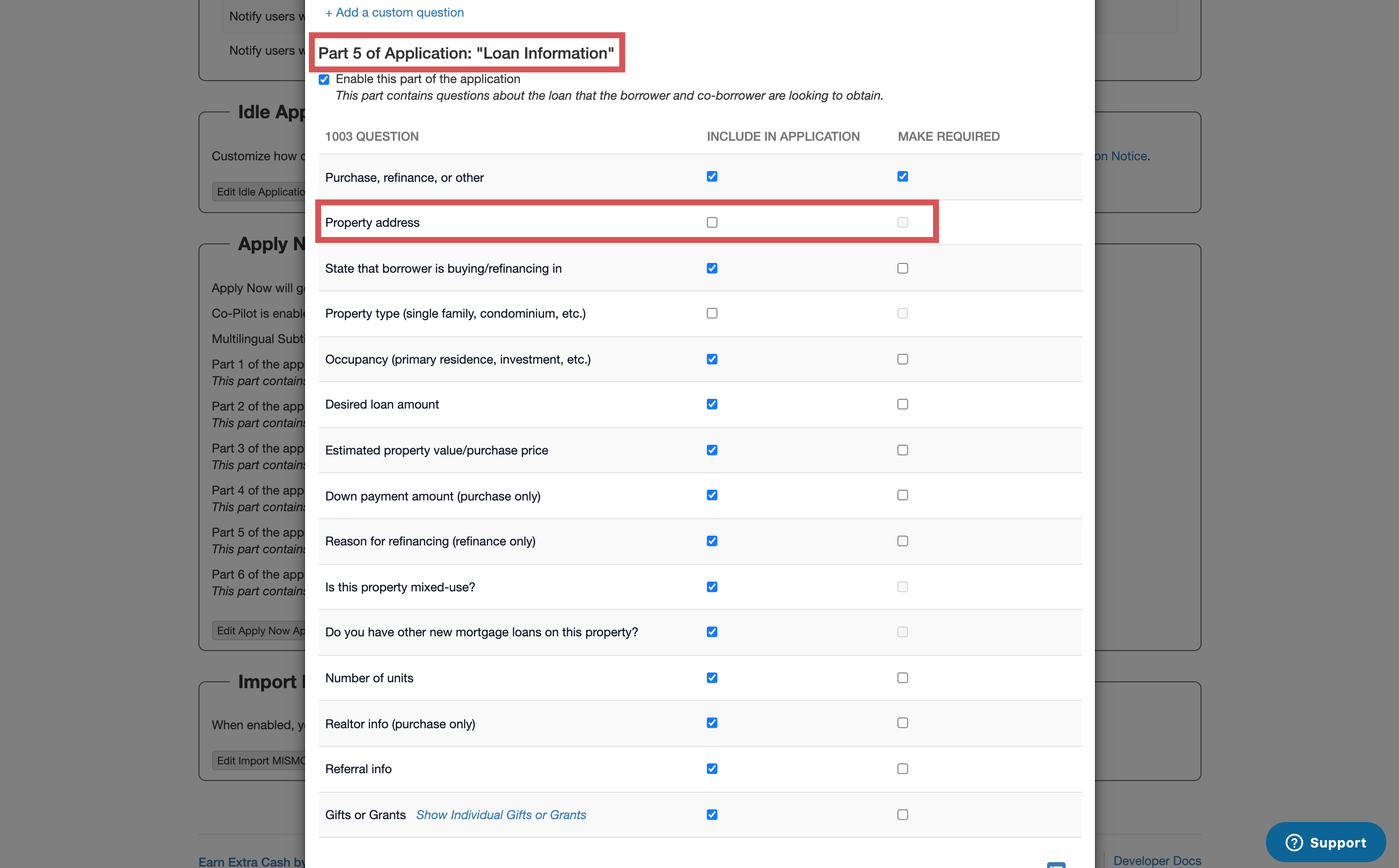 Scroll down to Custom Questions and click on the blue Add a custom question option: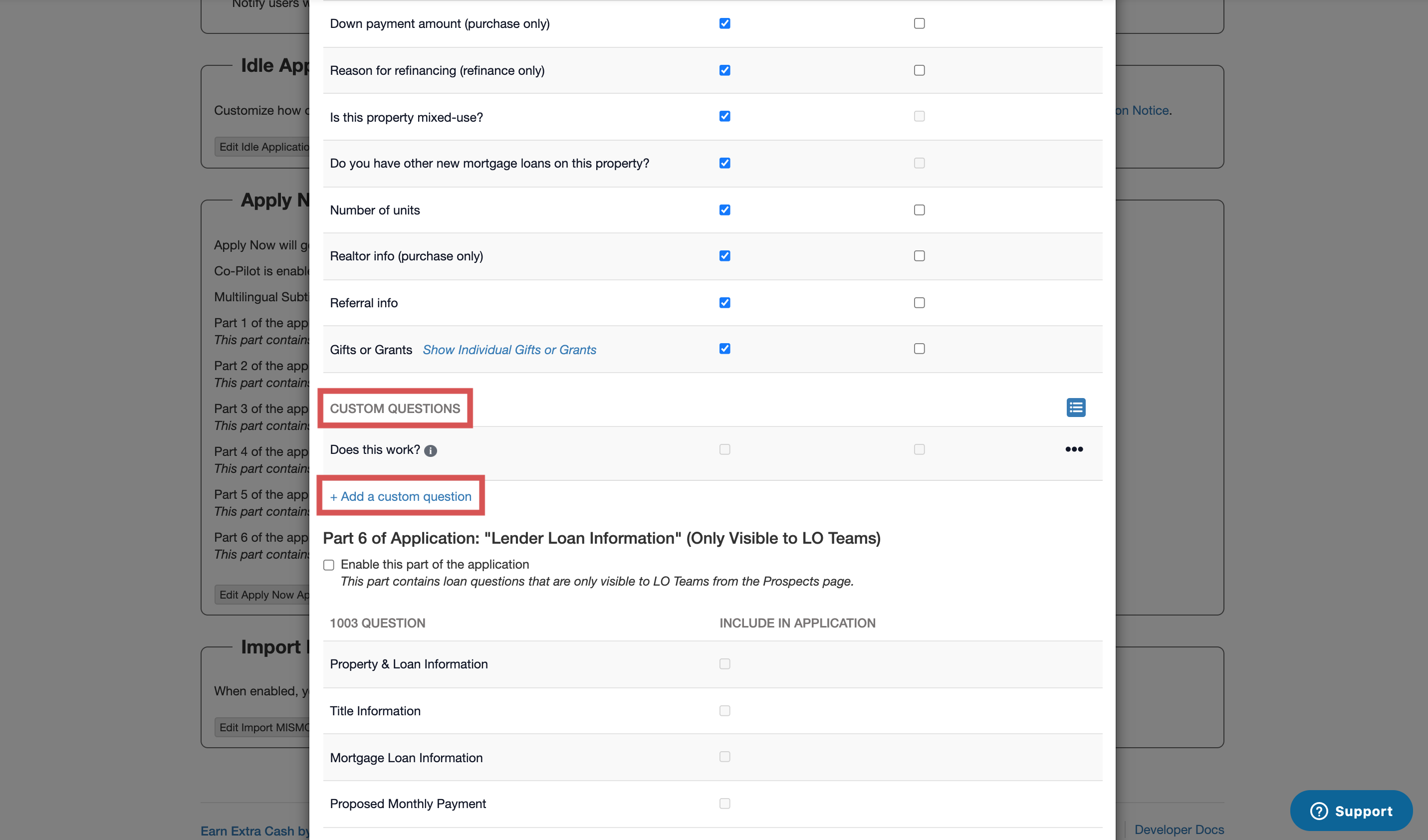 In the question text field, type in your custom question. The only requirement here is that the question contain the words 'Branch Insurance' next to each other:
For example:
Would you like to receive a free instant home insurance price from our partner, Branch Insurance? Responding 'Yes' allows us to share basic information required for an insurance price.
Select Yes/No from the Question Type dropdown and check the box to make the question required. This should look something like this. Click Save to confirm the changes: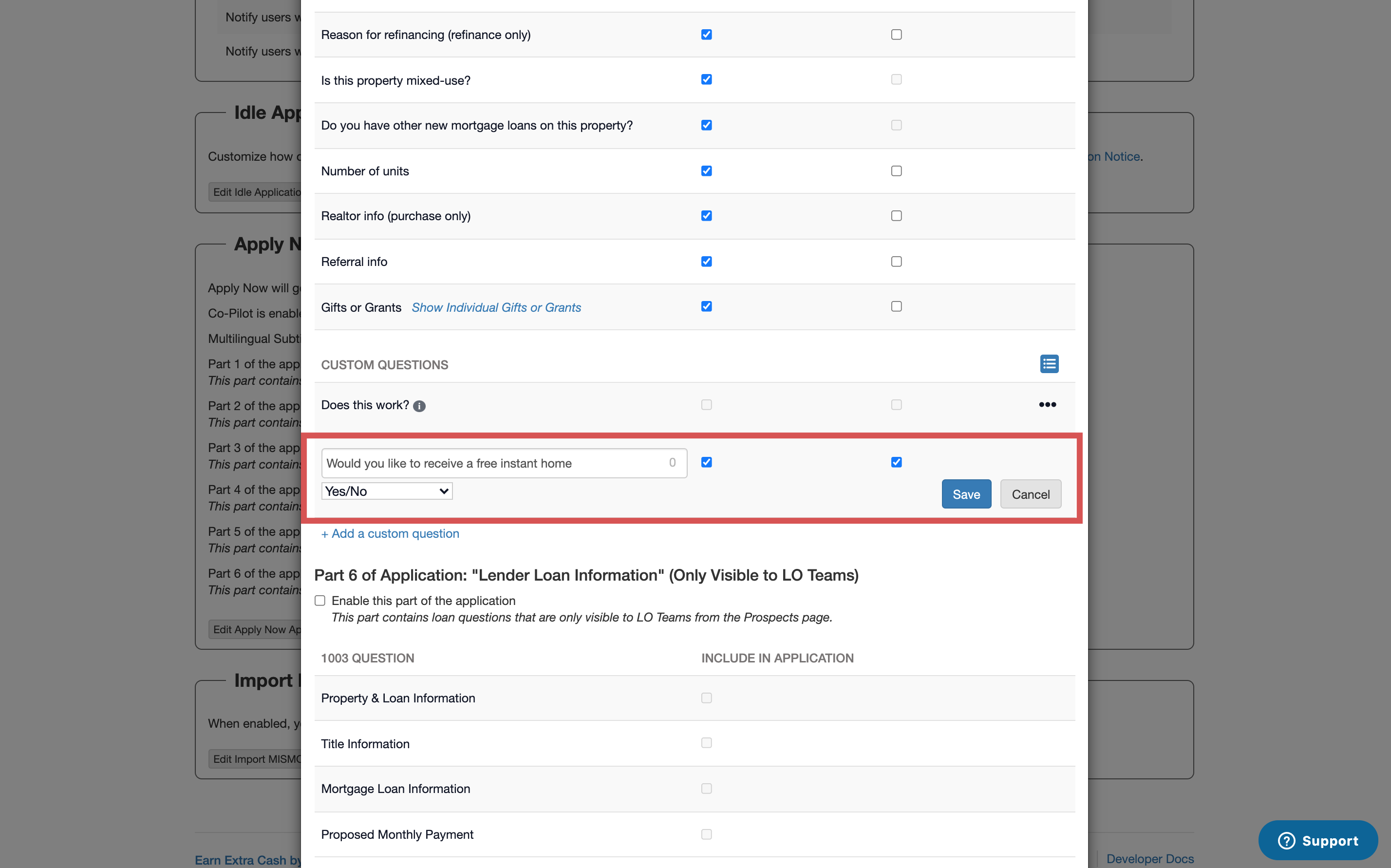 Scroll down to the bottom of the page and select Save to confirm your changes: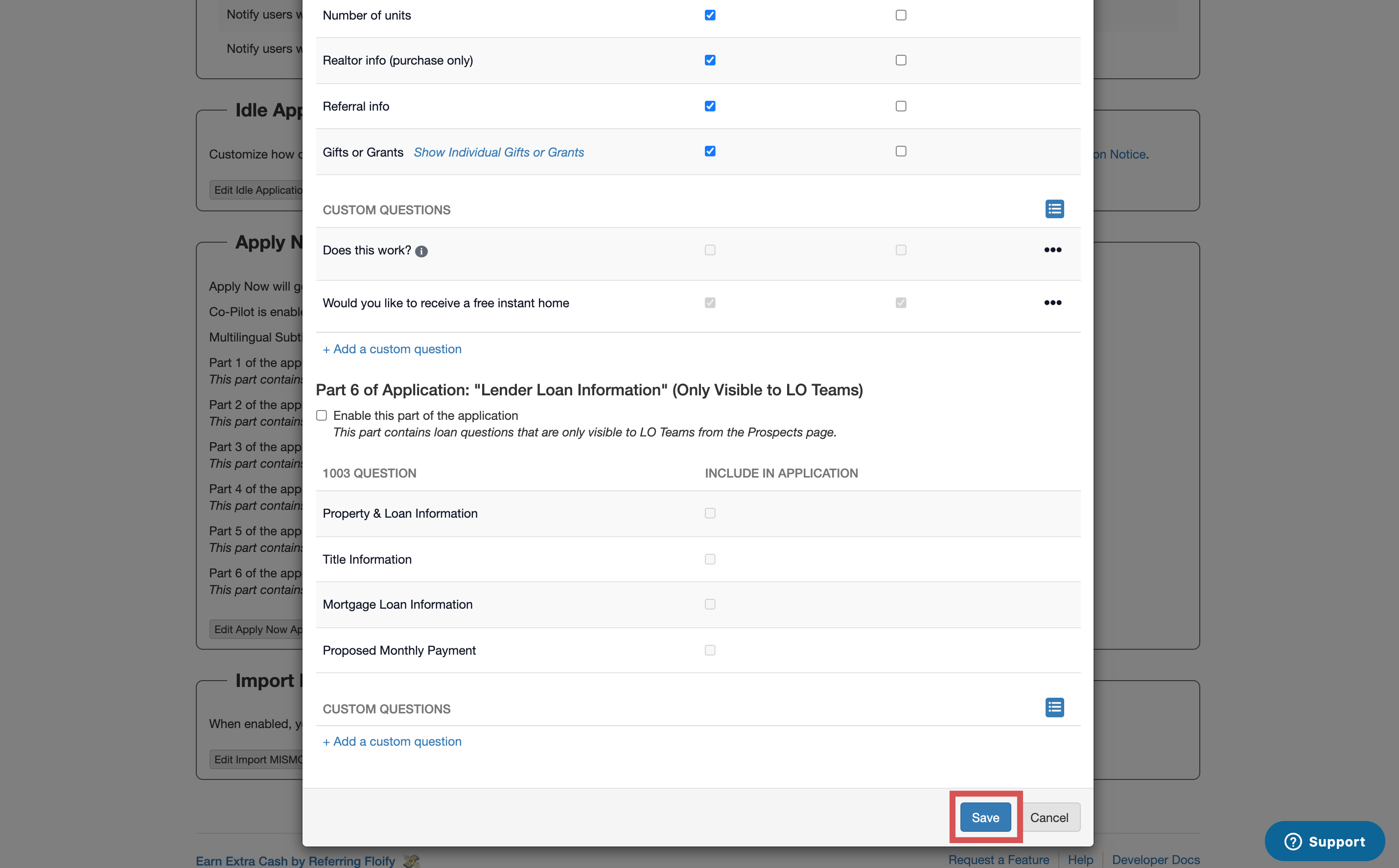 Enabling the Branch Insurance Integration and Getting the Company API Key
Navigate into the company dashboard by selecting the team name in the top right hand corner and then Company Dashboard: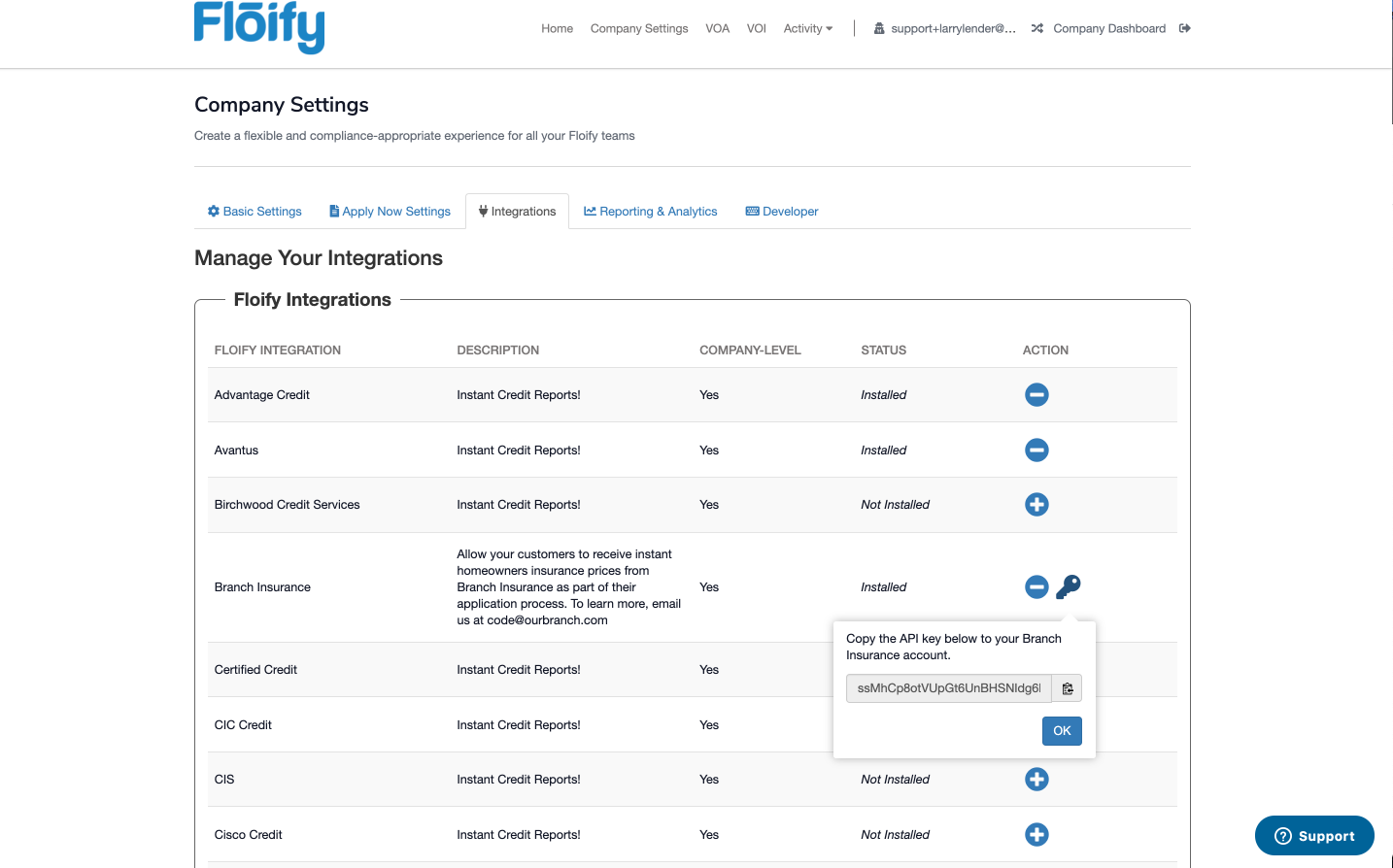 Select Company Settings > Integrations: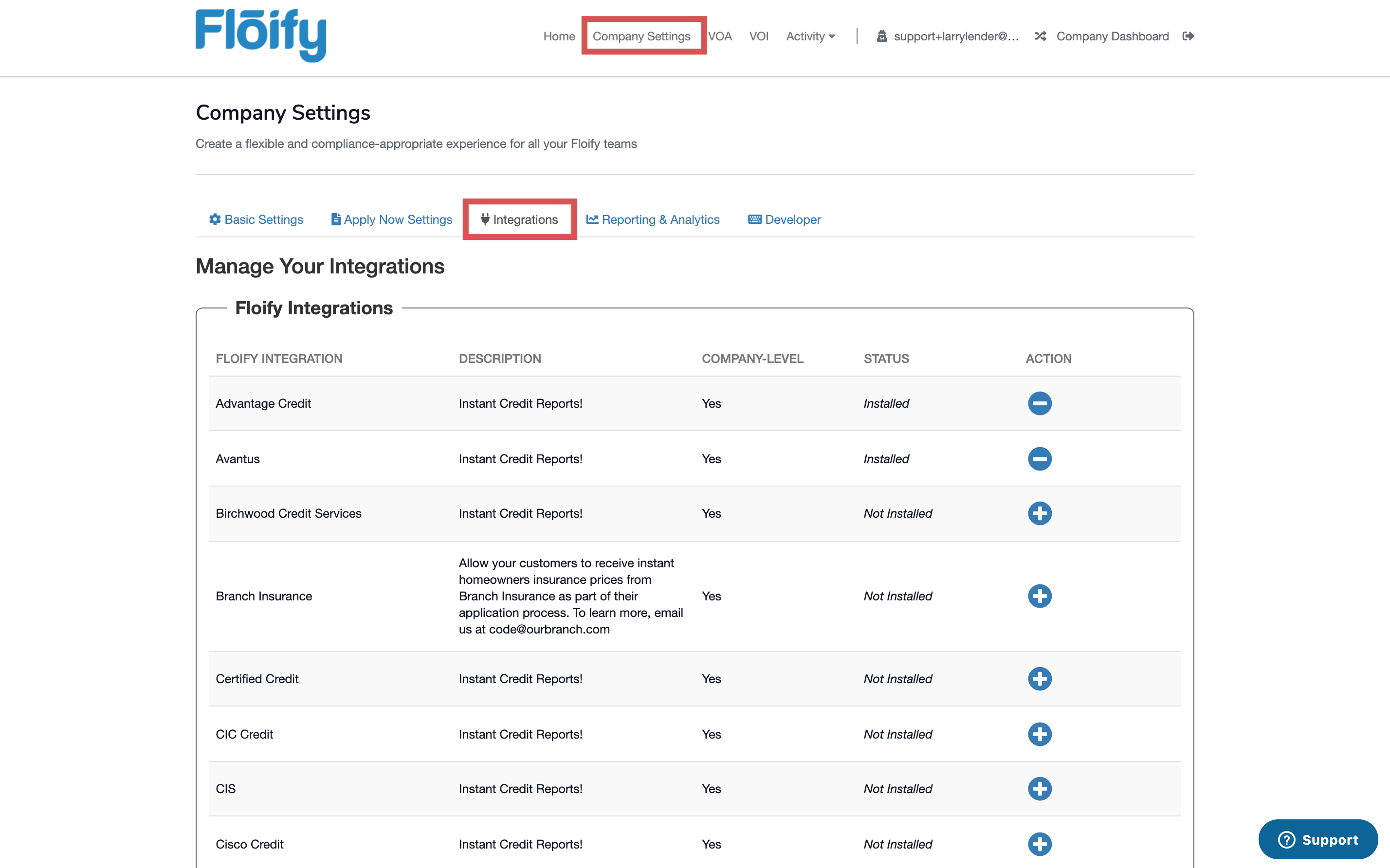 Locate the Branch Insurance integration. Select the plus sign towards the right to install: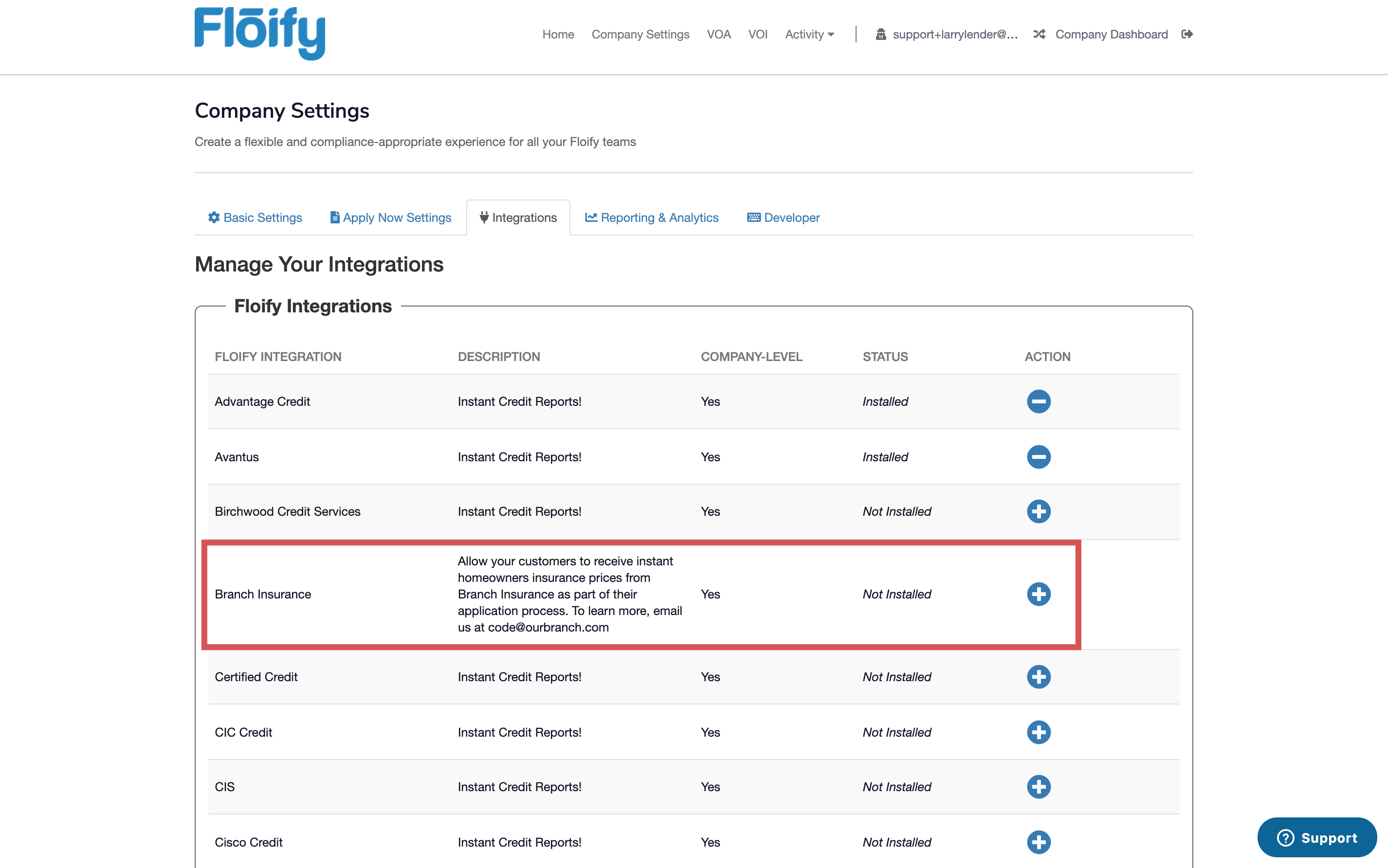 Select Install Company Level Integration: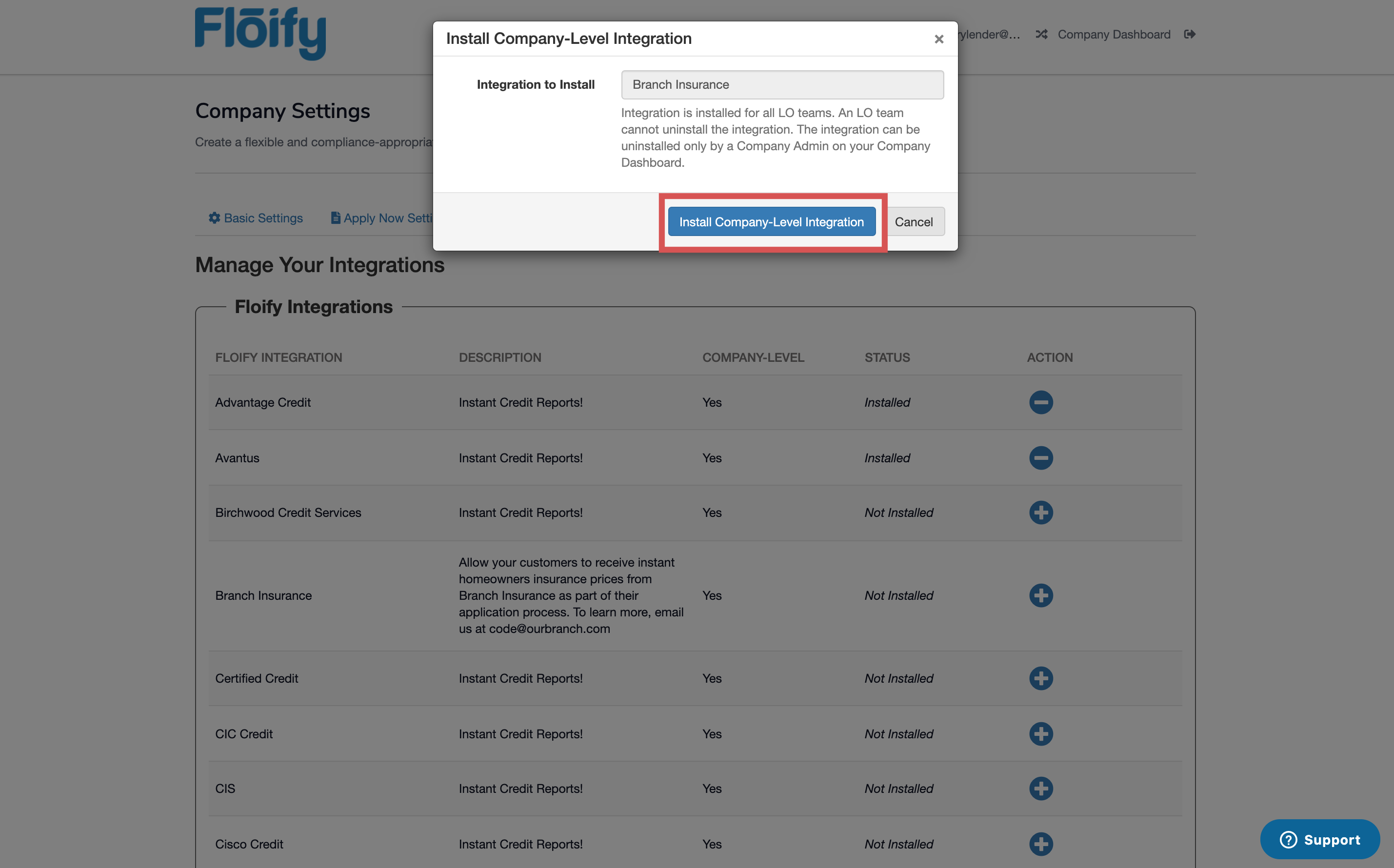 Click on the key icon next to the installed Branch Insurance integration and copy the API key. This will be your Company API Key: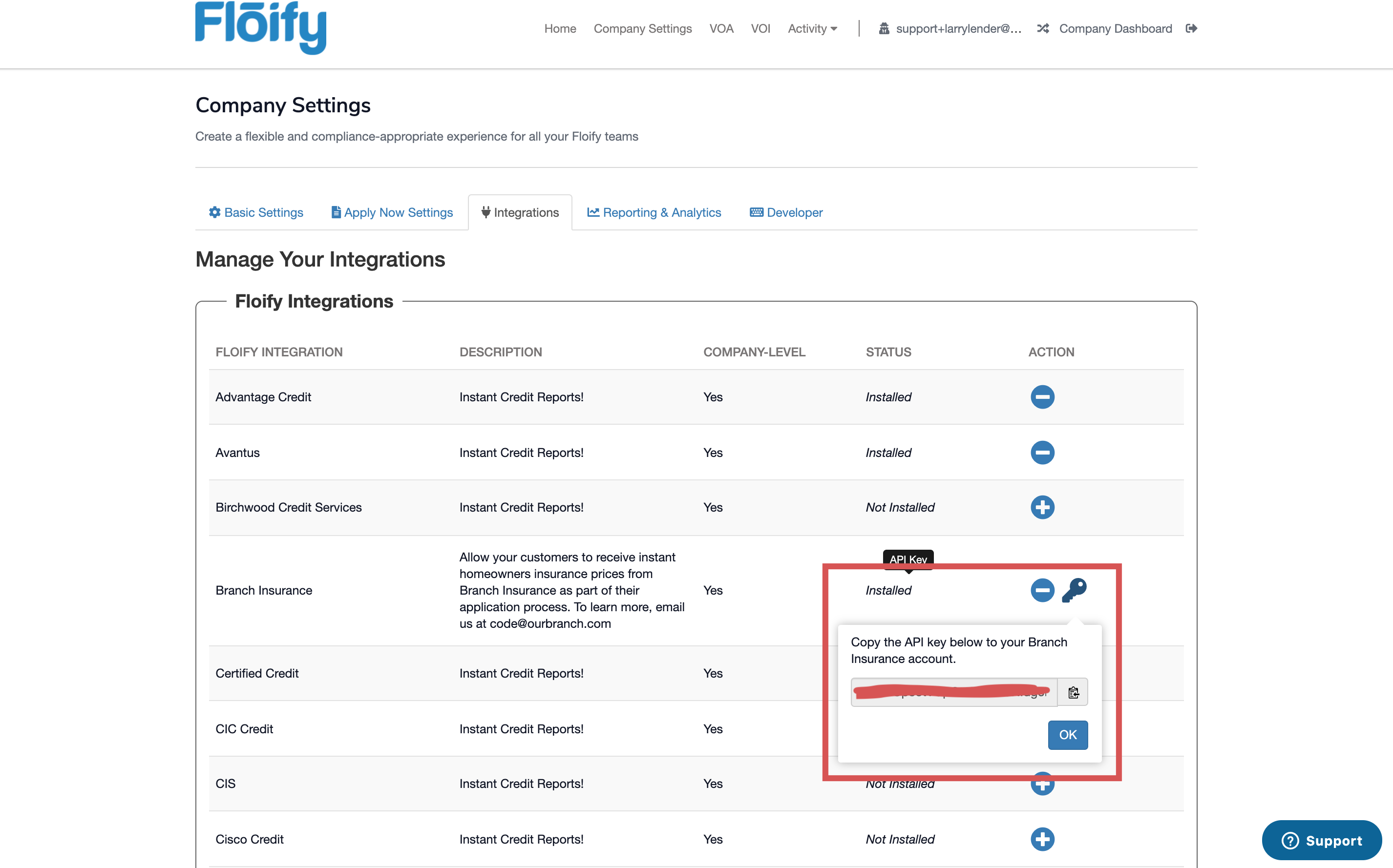 Getting a Company Administrator Loan Officer API Key
When logged into a company admin account, select the email address in the top right hand corner: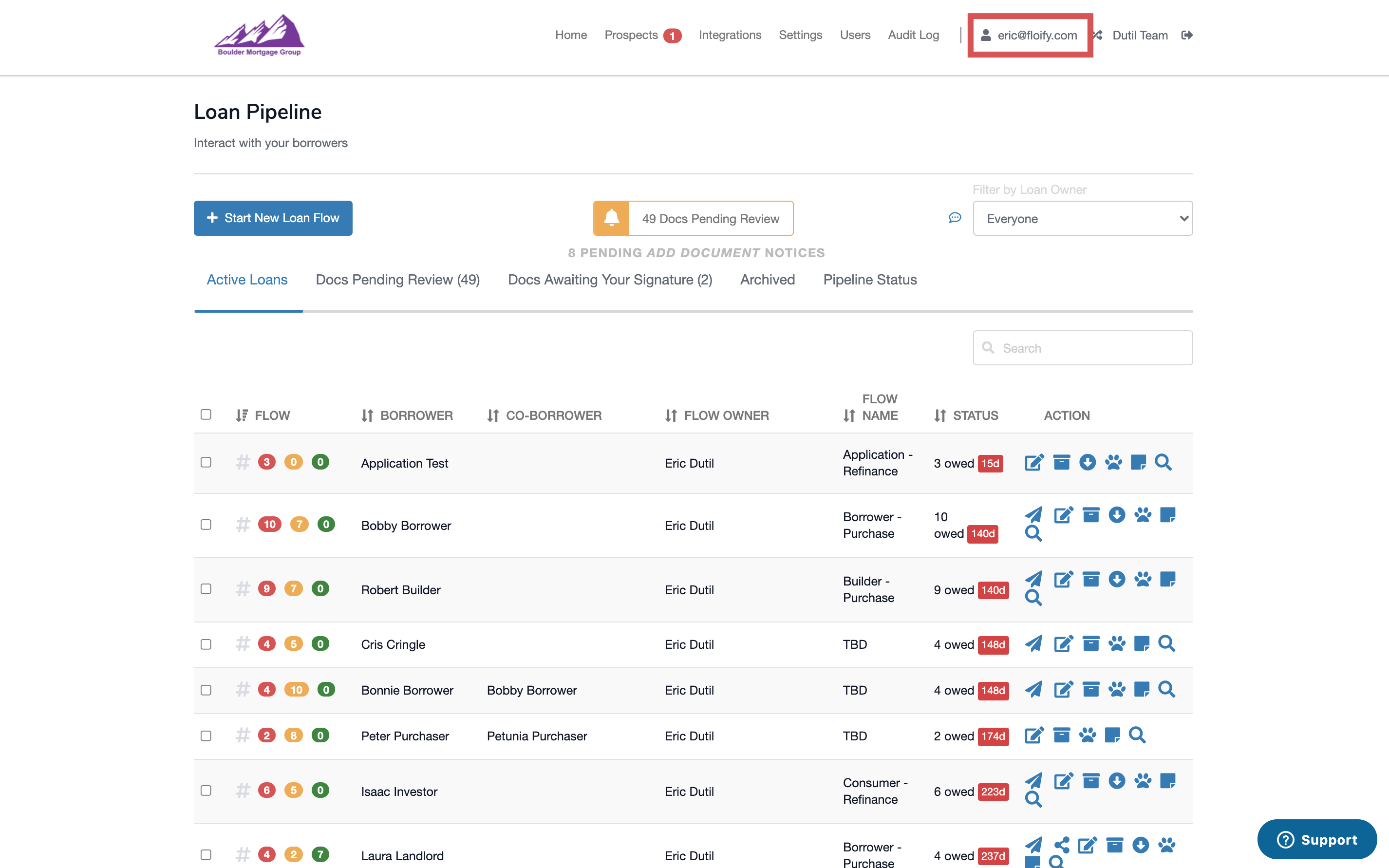 Your API Key can then be found in your Profile section by selecting the blue Get API Key option: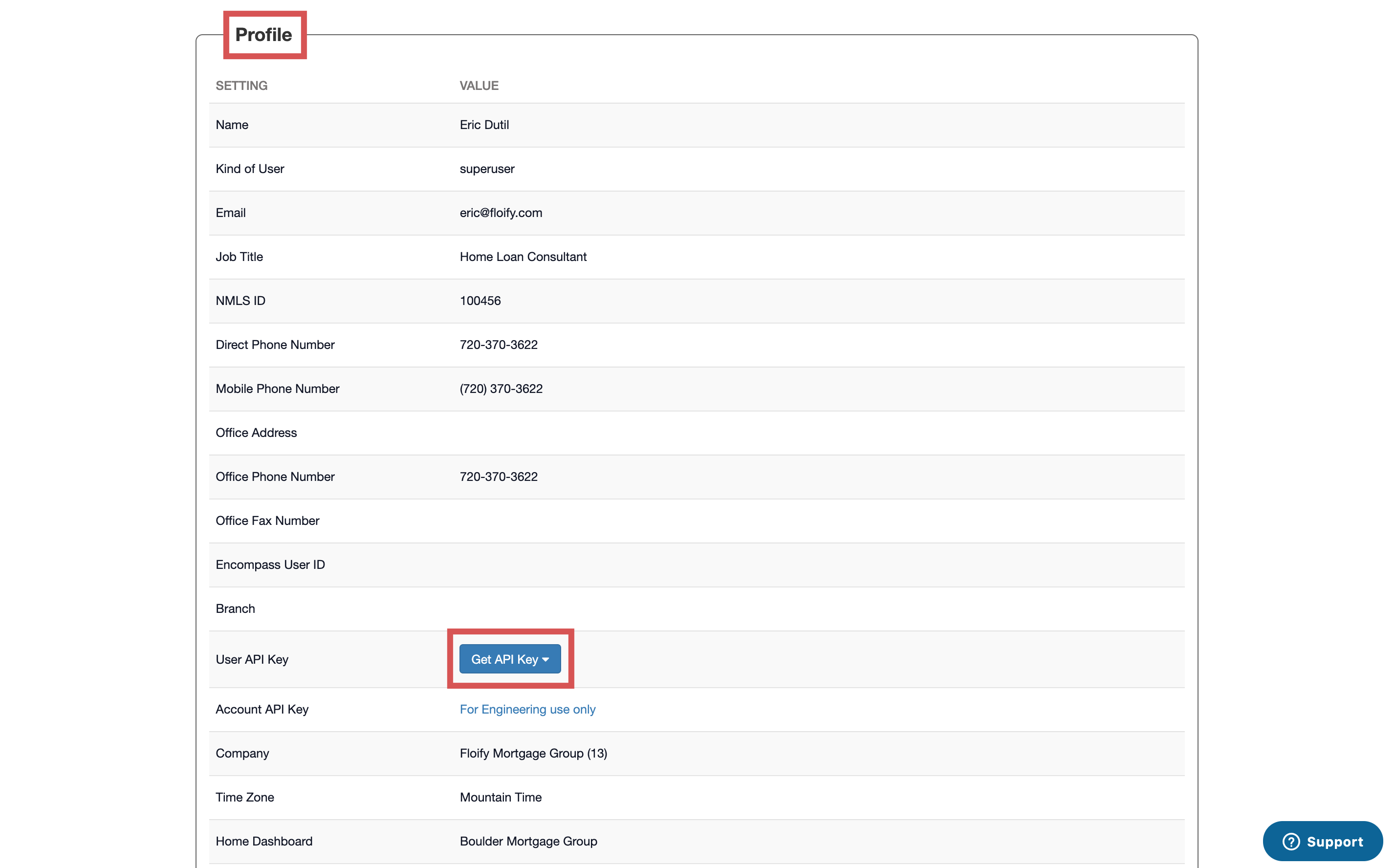 Final Steps
Provide the Company API Key and Company Administrator Loan Officer API Key to Branch Insurance. Once this information is received, they will set you up to ensure your borrowers can start to receive instant home insurance prices from Branch for the property they're looking at.